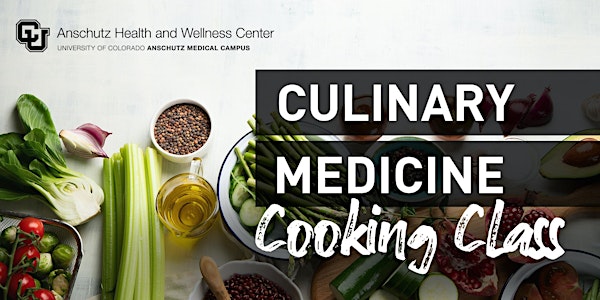 Virtual Culinary Medicine Cooking Classes - 2022
Join us for virtual Culinary Medicine cooking classes!
About this event
From our kitchen to yours! Join CU Anschutz Health and Wellness Center registered dietitians every other Tuesday in our virtual cooking classes. Our team will guide you through recipe hacks, how to use pantry staples, and the latest nutrition research.
Culinary medicine blends the art of food and cooking with the science of medicine. Discover how eating high-quality meals can help prevent and treat disease while restoring wellbeing.
All classes will be held virtually via Zoom. All registrants will receive a Zoom link via email to access the class.
Culinary Medicine Cooking Classes are FREE to AHWC members. Contact us at info@anschutzwellness.com if you do not have the member promo code. Apply promo code at checkout (click on blue "Enter Promo Code" text at top left corner).
Dates, recipes, themes, and registered dietitians:
PLEASE NOTE: One ticket per participant. Refunds are not available.
Culinary Medicine Cooking Classes will be replaced by Fresh Take Cooking Classes. The last Culinary Medicine Cooking Class will be December 13. The first Fresh Take Cooking Class will be January 12.
Click HERE to register for Fresh Take Cooking Classes.