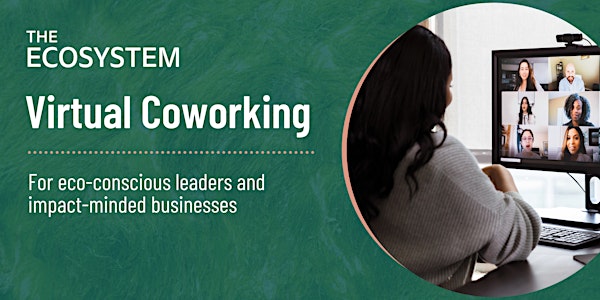 Virtual Coworking for Eco-conscious Leaders and Impact-minded Businesses
Connect with eco-conscious leaders and impact-minded businesses and get your tasks done during a virtual coworking session.
Date and time
Wednesday, March 29 · 11am - 4pm PDT
About this event
Join us for 30 minutes or join us for the whole time; we use the Pomodoro method to break down the time into work sessions and break times. Meet other like-minded leaders and business owners and get some tasks done! This event is sure to give you the boost you need to get your work done and make important connections.
This event is hosted by The Ecosystem. A community-focused membership for ecopreneurs, sustainable business leaders, and mission-minded founders. The Ecosystem platform connects you with like-minded people and growth opportunities at any time. DM members, join in-person or virtual events, and search our carefully-categorized resources. Learn more about The Ecosystem and check out our memberhip here.
Agenda
11:00 AM - 11:15 AM
Introductions
---
Introduction of how the virtual co-working will go and then we'll let everyone introduce themselves and share what they'll be working on during the first work session.
11:15 AM - 12:00 PM
Work Session (25-minutes or 45-minutes)
---
We'll turn off video and audio and get to our tasks. The host will set up a timer and bring everyone back after an agreed time. Typically 25-minute or 45-minute work sessions. If anyone joins the wor...

12:00 PM - 12:15 PM
Break Time (15-minutes) & Repeat
---
We'll take turns to see how we did on our tasks and see if people need help with anything. This typically is a 15-minute break depending on how many people are on. Then we'll do another work session ...

About the organizer
We are more than just a marketing agency, we believe that businesses play an important role in changing our social and economic climate. We are in business to pave the way for other businesses to be mission-driven and socially conscious.