Event Information
Refund Policy
Refunds up to 1 day before event
Eventbrite's fee is nonrefundable.
Create content to reach, engage, influence, and educate your most important audiences!
About this Event
December 9, 2020 • 1:00 - 3:00 CST • Zoom conferencing
Take your team's writing to the next level
In today's world, you need to master two different kinds of writing:
The short, concise, tight writing best used in our virtual workspace, online news stories, e-mails, bulletins, alerts, and home page copy.
Engaging stories. In order to connect people to your content, you also have to shift gears and be able to tell stories—using words, graphics, multimedia and the latest interview skills and techniques.
Our Virtual Writing Master Class will show you how to do both.
Part I: Write Tight
This part of the workshop is all about ditching the corporate jargon that pollutes so much of our content. You'll learn:
How to make every word count and boil down hundreds and hundreds of words into a single, solid summary.
How to write for the reader and not the approver­.
How to make sure the three most important questions in an announcement or news article stand out.
How to use a foolproof formula to write for today's online audiences.
How to layer your online information . . . so readers can decide how much time they want to spend with your content.
How to craft the perfect news headline . . . so even if the readers only skim the headline they still get the most important news.
Part II: The Art of Corporate Storytelling
It's time to shift gears from short, tight writing to the power of telling stories . . . and here's where the fun really begins. In Part 2 of this workshop, you'll learn:
How to avoid the most common writing pitfalls: The Four Ps.
The one component you need in your writing that is guaranteed to make your content more compelling.
How to write the crucial 'fast first sentence' that will pull people into your content . . . and keep them reading.
How to tap into the best source of your organization's stories: your employees.
The proven formula for crafting stories that will grab your audience's attention and keep them there.
How to sharpen your interview skills and train yourself, and your team, to "keep digging" until they hit storytelling gold.
You'll get FREE stuff too!
Every registrant will receive the following ... on us!
From Corporate to Creative Writing-Tips E-book
Workshop Recording
Ability to network with your peers during a special Zoom Happy Hour!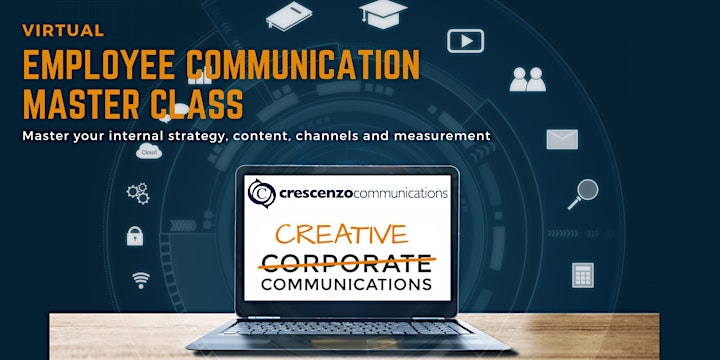 The only topic missing from above? Strategic Planning
Add on our Internal Communications Master Class and SAVE!
December 2, 2020 • 1:00 - 3:00 CST • Zoom Conferencing
What's the best one-two punch in Corporate Communications? Excellent writing skills combined with a strategic communication plan! Join leading employee communication experts Steve and Cindy Crescenzo as they walk you through dozens of strategies, case studies, and interactive exercises. They will cover the hottest topics and trends in employee communications. You'll learn:
How to shift your role from being everyone's private publisher—a glorified company Kinkos!—to a strategic counselor to internal clients and leadership.
How to start using the latest tools available to communicators — including O365, virtual town halls, social media and multimedia channels.
How to create a content strategy for the modern audience—including virtual workers, remote employees, and front-line employees who don't sit at a computer all day.
How to develop an effective research strategy so you know what works and what doesn't work.
How to create a measurement dashboard that helps you see at a glance how your communication efforts are helping achieve your organization's goals.
You have three options:
Register only for the Corporate Writing Master Class.
Register only for the Employee Communication Master Class.
Register for both at the same time and save! When you add on the Employee Communication Master Class to your Corporate Writing Master Class registration, you'll save $200!
Master Class Schedule:
DECEMBER 2020
December 2, 2020: Employee Communication Master Class • 1:00 - 3:00 CST
December 9, 2020: Corporate Writing Master Class • 1:00 - 3:00 CST
Date and Time
Location
Refund Policy
Refunds up to 1 day before event
Eventbrite's fee is nonrefundable.