Virtual Cooperative Networking & CEO Space Preview

Tuesday, November 12, 2013 from 7:00 PM to 8:30 PM (CST)
Event Details
Attention: Mature Entrepreneurs, & Business Owners...
"Experience Virtual Cooperative Networking with a Proven System to Get What It Is That You Need Next, even if you don't know. " 
Introducing...
"The ONLY Virtual Cooperative Networking Club"
 All guests are letting their networks know RIGHT AWAY about this FREE Virtual Event to Collaborate with others business leaders JUST LIKE YOU.  
Join other well connected entrepreneurs who have decided to come together and explore what is possible in business collaboration." 
(Limited to the 1st 50 Business Owners who Register Online)

Who this event is for? 
If you are seeking to developing a cooperative community with high standard of integrity.
If you are looking to get compliant, raise capital and access the investor who can write the check.
If you are looking to build your team and access mentors that you could never afford to hire.
If you would rather operate in a cooperative environment rather than a competitive model that does not work.
If you value personal and professional development to develop YOU the leader.
If you have ever considered spending money on a tradeshow.
If you are a decision maker.
Here is How it Works! 
Step 1: Register Online 
Step 2: We Send You Everything You Need Including Blank Digital See Me Cards 
Step 3: At the Time of the Virtual Event We Invite you by email &/or Phone & Show You How to Use the System to Get What it is You Need Next.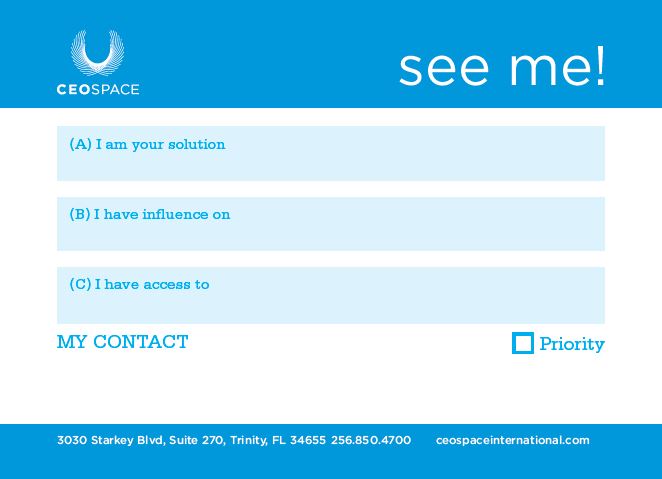 Who We Are?
CEO Space is an entrepreneurial training and world class private invitation only business accelerator, providing MBA-level training and development and an immersion experience of cooperation that results in income acceleration through exponential business growth.
 Having just made the FORBES List for "must attend events" for Entrepreneurs 
Read the article at http://www.forbes.com/sites/johnhall/2013/01/17/must-attend-2013-conferences-for-entrepreneurs/
Some of the success that you've heard of that CEO Space members have been responsible for include:

- The Cloud
- MTV
 - Nickelodeon
- A&E
- RIMM's Blackberry software Obama uses
- Microsoft's Lead Developer
 - Chicken Soup for the Soul
- The Old Spaghetti Factory
- Airborne
- The Secret
- The Oprah Winfrey Show
- "The View"
- 911 Locator Systems
- Bugle Boy Jeans
- Laser Sheild
- Robert Kiyosaki's (Rich Dad/Poor Dad) "Cash Flow Game"
- Green Glider
- PrePaid Legal
- Isagenics
- Magic Fountain
- The first all green city on the planet
- DreamTools
- Prolong Super Lubricants
- The Old Spaghetti Factory
- The T.E.N.S. Unit
- The current #1 Pet Product
 - The current #1 Education product
- The current #1 Automotive Product
- The current #1 Safety Product
- The current #1 Music Product
- Hundreds of best-selling authors
- Emmy & Grammy Winners
- Leaders in nearly every single product and services category
- Thousands of others
 What You Can Expect from this Cooperative CEO Space Preview?
Welcome
*Proven Collaborative Networking using Digital See Me Cards & SNAP
Introduction to Your Club Presidents & CEO Space
Mastermind Member High Value Mentoring/Coaching Circle
Super Conducting Cooperative Networking
Those that wish to consider membership, questions are answered which include a capital conversation.
New Member Invitation to Apply & Announce of Next Meeting