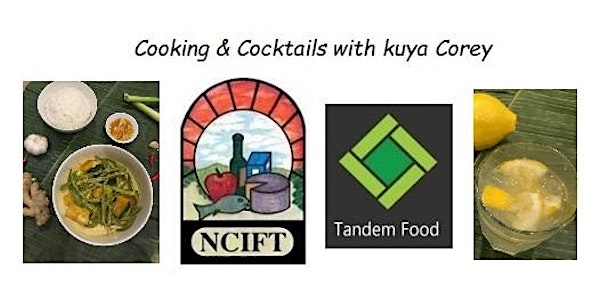 Virtual Cooking with kuya Corey
Join NCIFT as kuya Corey takes us through a live virtual cooking experience with an opportunity for networking afterward
About this event
Corey Abesa is hosting a live cooking demonstration for Ginataang Gulay (aka if you like coconut, this is for you!). After the demo, he'll take Q&A. Then, participants can stay on to network in the breakout rooms.
Purchase and prep the ingredients below to cook alongside the demo or enjoy learning and networking with a beverage in hand.
Ingredients for the demo dish: Ginataang Gulay
Coconut oil - can substitute with any cooking oil - 1 tsp
Garlic - 6 cloves, minced
Ginger - 1 1/2-2 inch piece, minced
Bird's Eye Chili - can substitute any type of chili - 1, minced
Black bean sauce - can substitute with any type of umami ingredient such as mushroom powder, shrimp paste, etc - 2 tbsp
Coconut milk - 14 oz can
Lemongrass - 4-5 inch piece, slightly pounded with back of knife
Kabocha squash - can substitute any type of sweet squash - 1 lb, chopped into 1/4 inch pieces
Sitaw - can substitute asparagus bean or any type of fresh green beans - cut into 4 inch pieces - 5-6 green beans
Jasmine rice - can substitute any type of white rice - 2 cups
Optional: water (to thin out sauce if too thick)
Equipment for the demo dish: Ginataang Gulay
Rice cooker (or a small pot with lid)
Medium size pot with lid (3-4 qt)
Stovetop (or any conduction type of cooking equipment)
Wooden spoon (or any type of utensil to stir ingredients)
Ingredients for the demo beverage: Lemon Drop and Pop
1/4 lemon, chopped into 1 inch pieces
0.5 oz simple syrup
Sparking water - can substitute with Lambanong for alcoholic version (for those 21+ only)
1/4 cup Ice
1 oz Soursop Sparking Water - can substitute with any fruity flavored sparking water
Corey Abesa is a new professional that graduated from Cal Poly Pomona where he received his Bachelor's in Food Science and Technology and a Minor in Culinology. After previously working at Armanino Foods as an Assistant R&D Chef, Corey currently works as a Food Technologist at Albertsons Companies and is a fairly new addition to the Product Development team. At Albertsons, he is involved in the development of several products under various brands such as Signature SELECT, O Organics, and Lucerne. When he is not evaluating various pizzas and frozen items at work, he enjoys rollerskating, cooking, and dancing.
*This event is intended for current NCIFT New Professionals living and working in Northern California.
**This event is limited to the first 40 registrants.
***Zoom meeting details will be emailed an hour before the event start.