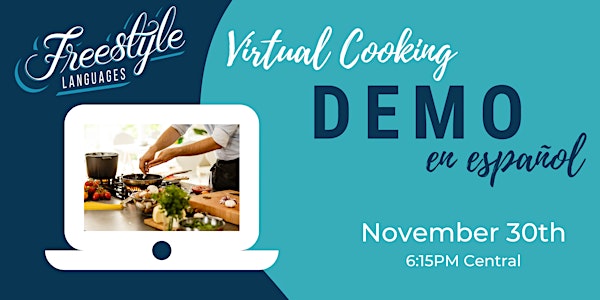 Virtual Cooking Demo (en español) & Spanish Conversation Practice
Join us on Zoom as we prepare a traditional dish en español - with opportunities to practice your Spanish, led by our team. ¡Vamonos!
About this event
🥘 Language and food go hand in hand! Spanish language learners of all levels or lovers of Spanish cuisine - join us!
You must RSVP to this free event to receive the Zoom link to join us! 100% of donations go to Rebecca (the chef! Read her bio below).
Recipe (including ingredients & equipment) for the arepas will be shared after you RSVP. Either follow along with us at home making the dish or simply log on to practice your Spanish!
#TeamFreestyle, professionally trained in second language acquisition (#morethanameetup), will be there to help guide conversation throughout this event in a casual yet instructive way - while we have fun learning through the context of food!
Please note: we are a face-to-face community! We ask that all attendees leave their cameras on for the duration of this event. Bad hair days are welcome here!
About the Chef:
I was born in Los Teques, Venezuela, in 2000. Since I was a kid, I've loved to draw and paint, which led me to study Graphic Design and work as a freelance designer and illustrator. I also love languages, growing up I learned English with my favorite shows and when I was 16, had my first job as a personal English teacher. Currently, I'm learning Japanese. Among my hobbies, I'd mention watching series and drawing :)