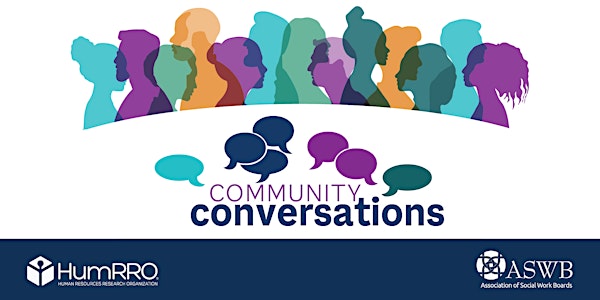 Virtual Community Conversations: CLINICAL SOCIAL WORKERS ONLY
Mapping your journey: A productive dialogue on your pivotal experiences in social work and the path forward for the licensing process.
Date and time
Saturday, March 11 · 6 - 9am PST
About this event
Thank you for your interest in participating in the community conversations announced by the Association of Social Work Boards. The independent consulting firm, the Human Resources Research Organization (HumRRO) will be conducting three types of community conversations: in-person, virtual, and self-paced survey.
Each community conversation is an interactive three-hour session connecting social workers who will share pivotal experiences in their social work journey. Sessions will include up to 32 participants, with small-group breakout sessions led by trained facilitators. Discussion topics will include becoming a social worker, getting a social work education, taking the licensing exam, and looking at the future of licensing and the profession. Visit aswb.org/conversations for more information. It is important to keep in mind that all the times shown on the registration page will default to your device's detected time zone.
A self-paced survey will be available in early February, allowing users who are not available for either an in-person session or a virtual session to provide written or recorded feedback. Please do not use the survey if you are already planning to attend an in-person session or a virtual session.
By registering, you commit to showing up to the event at the specified date, time, and location. Please note that virtual sessions will be available on a first-come, first-served basis. If you find that a session is filled, please check regularly to see if a spot opens up, sign up for another session that fits your schedule, or provide your feedback using the self-paced survey.
Contact ASWB@HumRRO.org if you have any questions or concerns. We look forward to collaborating with you on this important work.