Immerse yourself in a one-week summer virtual academy with an emphasis on the college admission and financial aid process.
About this event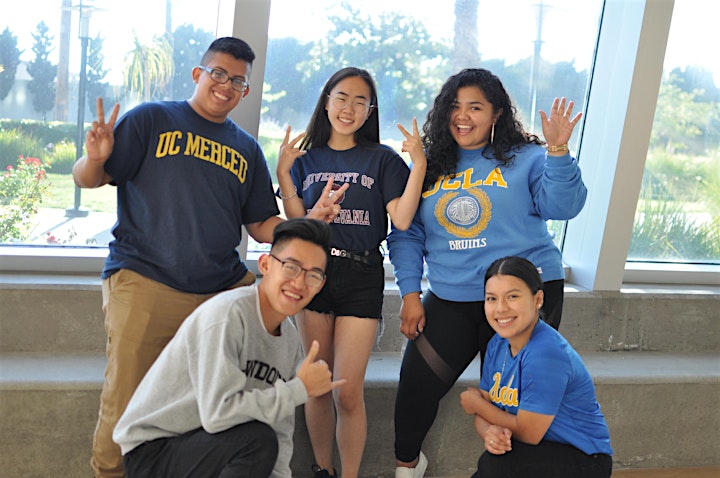 College Bound Academy focuses on four-year universities and includes informative and interactive digital workshops on a variety of topics ranging from:
 Writing a personal statement
 Creating a college list
 Applying for scholarships
 College application process
To see the summer program in action, click here.
During the academic year, digital workshops and virtual advising will be available, ranging on topics such as:
 Common Application, CSU/UC and other college applications
 CSS Profile and FAFSA
 College and career guest speakers
In addition, students will have the opportunity to be matched with a college mentor that will serve as an added layer of support throughout their college admissions process.
There is no-cost to participate!
Timeframe: Digital classes are held Monday through Friday from 10:00 a.m. to 12:30 p.m. PDT | 1:00 p.m. to 3:30 p.m. EDT
Session 1: July 19-23
Session 2: July 26-30
Session 3: August 2-6
You may only register for one session.
Eligibility Requirements: The program is filled on a first-come, first-served basis for applicants who meet the following requirements:
 Must be entering the 12th grade in fall 2021
 Must demonstrate college prep curriculum and have a minimum weighted cumulative 3.0 GPA
 Must be committed to attend the entire one-week virtual academy over the summer.
Application Process: Applicants must provide the following to be considered for College Bound Academy:
 Step 1: Completed registration form via Eventbrite.
 Step 2: Current unofficial high school transcript (must include 9th through 11th grades). Details on how to submit transcript will be provided upon registration.
 Step 3: Submit any additional application materials no later than Friday, July 9, 2021.
Technology Requirements: To participate in virtual classes, each registered student will need a computer or device with internet connection. The free Zoom video conferencing platform will be used to conduct the class, so this software needs to be downloaded prior to the class. It is also highly recommended that students have a webcam and microphone in order to actively participate in the class.
Once a student has registered, a confirmation email from Eventbrite will be sent with additional details related to a virtual student orientation, Zoom access information for the class as well as safety and security guidelines to review.
In addition, please note that your information will be shared with the respective guest college campus(es).
We hope to see you virtually this summer!