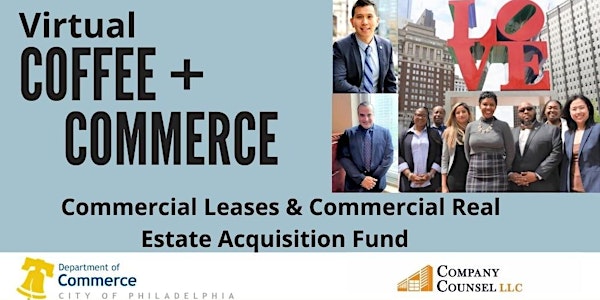 Virtual Coffee + Commerce Commercial Leases & Commercial Real Estate
The Dept. of Commerce is here to help your business launch and thrive in Philadelphia. Join us for this free informative event.
About this event
During these unprecedented times, the Department of Commerce and its Office of Business Services are striving to continuously support and remain connected with our business community—letting business owners and entrepreneurs know we are a resource, we care about your success, and we can help you manage through this difficult time.
This event will provide an opportunity for entrepreneurs to have their questions about Commercial Leases and Real Estate answered by legal counsel Mr. Bernard Williams of Company Counsel LLC. You will also learn about the Commerce Department's Commercial Real Estate Acquisition Loan Program (CREAL Program), which provides capital to small businesses and community development organizations for the purpose of commercial real estate acquisition through the Women's Opportunity Resource Center (WORC). This program allows small businesses in low- and moderate-income areas to purchase and control real estate that they currently occupy or intend to occupy. The program generates and promotes economic ownership and generational wealth for underserved small businesses.
A special welcome from Councilmember At-Large Kendra Brooks.