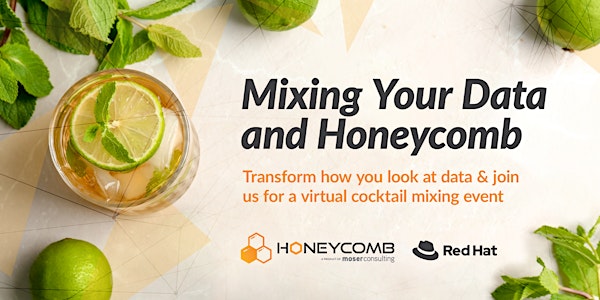 Virtual Cocktail Class and see a demo of the Honeycomb for HR data tool
Join us for a virtual cocktail event with the Cocktail Guru and learn about our Honeycomb for HR Data tool!
About this event
Join us for a virtual Cocktail mixing event on Tuesday Sept. 27 at 4 pm and learn a little more about Honeycomb and what it can do for your data. For the first 50 people who sign up, we will pre-ship you a box of cocktail essentials so you can follow along and our experts from the Cocktail Guru, who will show you the tips and tricks of how to mix the perfect drinks.
Our experts at the Cocktail Guru are going to help us create three special cocktails.
Spring Daisy - works with Vodka, Gin, Rum, Tequila, or Whiskey - black tea, honey syrup, hibiscus and lemon juice.
Chamomile Mule - works with Vodka, Gin, Rum, Whiskey or Tequila - chamomile, ginger syrup, soda water, dried herbs.
Espresso Pom Tini - Works with all spirits - Espresso syrup and pomegranate.
In addition to the cocktails, we will discuss our data lake tool that will transform how you look at the data in your HRIS. We don't replace your HRIS, we just make it better!
See you (virtually) there!
Sign up by Sept. 6 in order to receive the box of cocktail essentials in time!
Privacy Preferences:
By signing up for an event with Moser Consulting, you agree to receive email communications about the event and about our products and services and those of our listed partners. If it is necessary to ship an item to you, we will also require that an address is provided. We will never sell your personal information.
This cocktail mixing event is co-hosted in partnership with Moser and Red Hat. As a result, both Red Hat and Moser are collecting your personal data when you submit such information as part of the registration process. For more information on each party's privacy practices, please see: Red Hat's Privacy Statement | Moser Privacy Policy.
The Cocktail Guru: Background
Created in 2006 by preeminent bartender Jonathan Pogash, The Cocktail Guru, Inc., is a nationwide company that specializes in team building mixology classes, cocktail development, special events, and bar programs.
The Cocktail Guru has designed and activated team building events for corporations such as Google, Facebook, LinkedIn, Lyft, among others.
Jonathan and The Cocktail Guru have been highlighted multiple times on NBC' s Today Show, ABC, and Fox, among other local and national media outlets. Radio appearances and segments include National Public Radio (NPR), Sirius XM Radio, The Howard Stern After Show, Martha Stewart Living, and E! News.
Stories about Jonathan and The Cocktail Guru have appeared in many print and on-line publications including: The New York Times, The Wall Street Journal, The San Francisco Chronicle, Food Network, Food & Wine, among others.