~Virtual Class~"Kink Does Not Have To Be Sexual" Sun 10/3rd 2-3:30PM $10
~Virtual Class~"Kink Does Not Have To Be Sexual" By Queen Ana Algos, Sun 10/3rd 2-3:30PM PST/5-6:30PM EST, Suggested Donation $10
About this event
~Virtual Class~"Kink Does Not Have To Be Sexual" By Queen Ana Algos, Sun 10/3rd 2-3:30PM PST/5-6:30PM EST, Suggested Donation $10
------------------------------------------
**Zoom Links are sent 15-30 minutes before event starts. Please check your Junk Mail in case link gets sent there.**
------------------------------------------
[Eventbrite Link][https://Non-Sexual-Kink.eventbrite.com]
[Fetlife Link][https://fetlife.com/events/1031178]
------------------------------------------
*Description*
When most people think of kink, they usually think of sex. Now, there is nothing wrong with sex. Sex is awesome, when done consensually and with everyone's pleasure in mind. But you can practice kink without sex.
In this class we will:
-Define sex
-Go over non-sexual kinky activities
-Discuss negotiation tactics
-Go over consent
-Practice some roleplay ideas
-and more!
------------------------------------------
*Bio for Queen Ana Algos*
Queen Ana Algos identifies as an Ethically Polyamourous, Sadomasochistic, Pansexual, Black, Leather, Pro-Dominantrix, Collared Submissive, and Top Heavy Switch. Queen Ana is based in Southern California and works out of Sanctuary Studios LAX, where she does sessions and hosts BDSM events. She is also Ms. Sanctuary Leather 2020 and 2021. As a Professional BDSM worker, Queen Ana enjoys talking to clients through SextPanther and NiteFlirt. As a Lifestyle, she enjoys constructing creative, personalized moments with her play partners. Queen Ana enjoys teaching because she enjoys talking to people and helping others feel welcomed and safe. BDSM education should not be a secret and she excels at making people feel accepted, important, and at helping people understand they have power, no matter what side of the slash they may be on in their kinky journey.
------------------------------------------
*Important*
-Zoom Links are sent 15-30 minutes before event starts.
-Check your Junk Mailbox for the link.
-Event is shown via Zoom.
-Download Zoom BEFORE event starts.
-No refunds will be given.
-If you missed a class/event or made a purchasing error, your ticket can be used for another class or event of equivalent value.
-For more information, email HouseOfAlgos@gmail.com
---------------------------------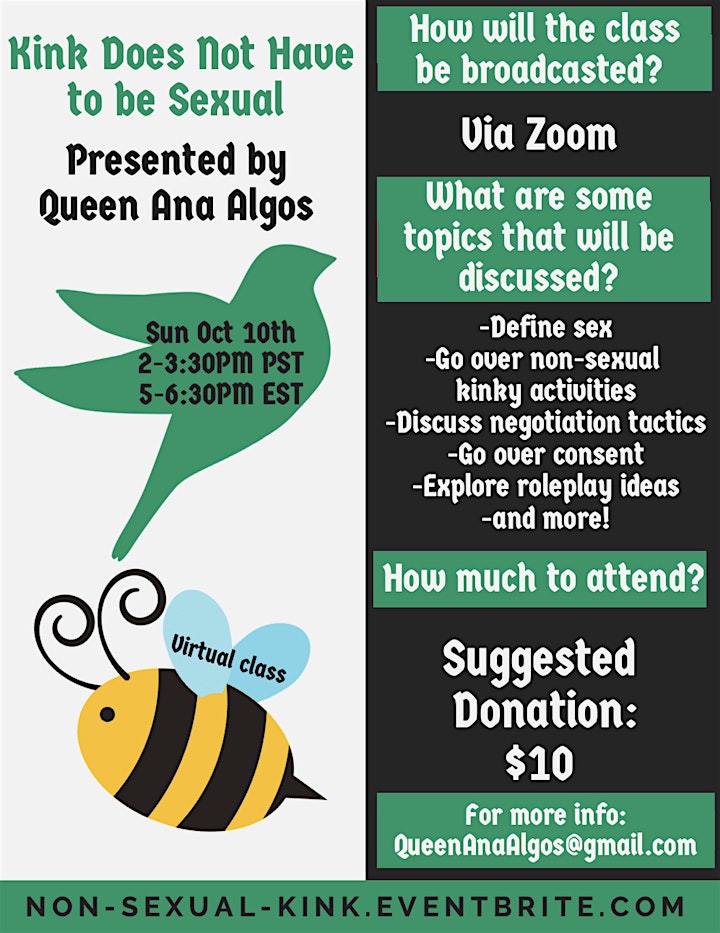 Organizer of ~Virtual Class~"Kink Does Not Have To Be Sexual" Sun 10/3rd 2-3:30PM $10