Live from Gaylord Opryland Resort
About this event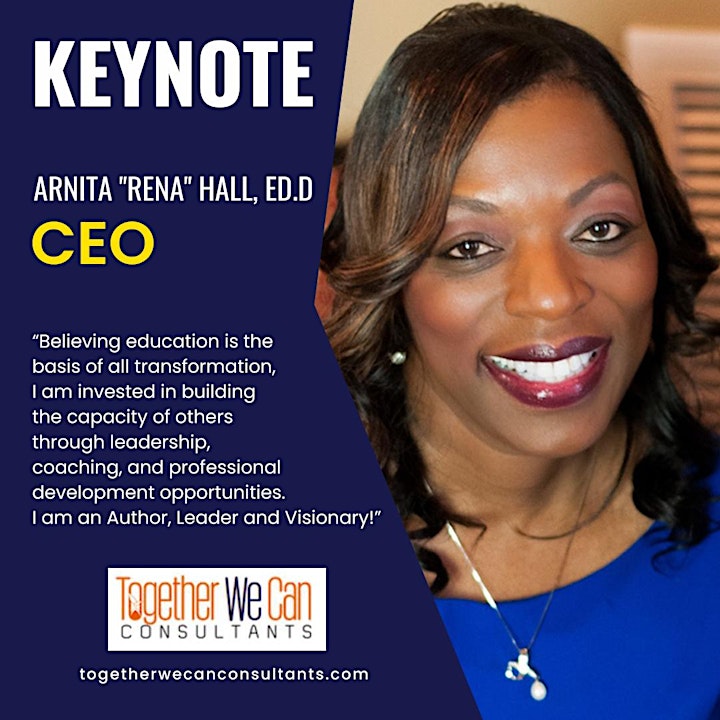 Since 1995, Our Daily Bread CACFP has been committed to providing an annual child care training conference. Although we are unable to host this year's conference in-person, our team is committed to bringing a worth while experience to you, virtually!
This year's conference will feature:
Earn up to 12 credit training hours
Entered for a chance to win dozens of door prizes
A-la-cart Workshops Pay for a single workshop, single day or entire conference
*Child Care Credit Hours not valid in Kentucky.
About Keynote Speaker - Dr. Arnita "Rena" Hall, ED.D.
Holding positions in higher education, nonprofit management and within the federal government; Dr. Hall received a Bachelors of Arts Degree from the University of Tennessee, Knoxville, a Masters of Education Degree from Central Michigan University and a Doctoral Degree from Nova Southeastern University. She has authored several articles and performed research on various subjects related to early childhood education, leadership, professional development, military families, resiliency, brain development, adult learning styles, and parent education. Additionally, she has obtained several certifications in the parenting, educational and leadership domains. Dr. Hall is the author of two books: "Peaks and Pitfalls: 7 Best Practices of Professional Development" & "Guidelines and Strategies for Effective Professional Learning".
Schedule (as of 3/30/2021)
Day 1
Keynote Speaker: Arnita "Rena" Hall, CEO of Together We Can Consultants
Session #1: Understanding the Spread of Infectious Diseases in Child Care featuring guest speaker Gracie Grandberry & Dawn Siler: of CCR&R
Session #2: Concussion & Traumatic Brain Injury: Impact on Children's Future featuring guest speaker Wendy Ellmo of Brain Links
Session #3: Children's Behavior: Nature or Nurture & Caregiver Responses featuring guest speaker Mayemona Franklin of CCR&R
Session #4: ACEs & the Pandemic featuring guest speaker Allison Douglas of Harmony Family Center
Session #5: Picky Eaters: They'll Eat this Up! featuring Nicole Siva of Our Daily Bread CACFP
Day 2
Session #6: Emergency Preparedness in the Child Care Setting featuring Terry Donald, Shelby County Emergency Management & Homeland Security
Session #7: Safe Sleep featuring guest speaker Wanda Barr of Metro Government of Nashville & Davidson County
Session #8: KidKare Homes & Centers featuring guest speaker Jazmaine Sargent of KidKare
Session #9: Never Ending Story: Enhancing Storytime for Infants & Toddlers featuring guest speaker Nadia Harris & Denise McDrummond of CCR&R
Session #10: Building Your Childcare Business feat guest speakers Laura Overstreet & Teresa Sylvia with Tennessee Small Business Development Center
Session #11: Farm to School featuring guest speaker Lacy Stephens of The National Farm to School Network
Zoom Account IS Required!
A Zoom account is required to participate in this event. You will be asked to provide your zoom username during registration. Please create your zoom account before you begin the conference registration.
Click Here to Create Your Zoom Account
Door Prize Donations:
If you are interested in promoting your business and donating a door prize, use the link below and complete the "Door Prize & Donation" form. All door prizes donated before June 7, 2021 will feature the company name or logo promoted during our live Zoom event.