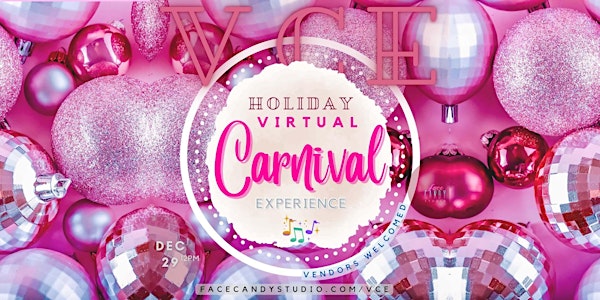 Virtual Carnival Experience - HOLIDAY EDITION
A 12-hour online event that brings together carnival vendors, the soca vibes, and the people that love them.
About this event
Save the Date
Thursday, December 29th 12pm - Midnight [NEW YORK TIME]
What to Expect
Join Face Candy Studio Makeup Team online for our Virtual Carnival Experience where you can chat with carnival vendors and other , get familiar with their products and services, plus meet other carnival travelers and enthusiasts.
Part 1
We chatting it up and allowing anyone to chime in and give praise or get things off their chest.
Caribbean and Black vendors will also discuss taboo topics and give us inside look to their day-to-day.
We playing Caribbean Jeopardy, Famalay Feud, and Wheel of Jab Jab & Giving out prizes.
Part 2
We turning down the lights and turning up the vibes with DJs, soca performances, costume designers, instrumentalists, dancers, and more.
Feel free to dance a long, sing along, or just smile, and laugh. We're here for it. 
One Big Virtual Happy Hour
.... with a couple hundred of your new friends :-)
We drinking straight through to midnight.
This is a BYOB Event. Bring Your Own Boooooooze!
Don't worry, you don't have to turn on your cameras to join in on the fun.
Wanna Be a Vendor?
Interested in being a vendor? DM @facecandystudio for details.
Just keep in mind, space is reserved for vendors who are part of the BLACK OR CARIBBEAN COMMUNITY.
A little bit about Face Candy Studio:
Has completed over 41 carnival makeup popup shops across 6 countries
Has provided carnival makeup to over 5,800 masqueraders
Have over 30 makeup artists based in NY, Miami, Toronto, Barbados, Jamaica, and Trinidad
Specializes in Caribbean carnival makeup and airbrush makeup
Has over 95K followers on Instagram @facecandystudio
We are looking forward to doing carnival makeup at:
Miami Carnival 2022
Trinidad Carnival 2023
and much, much more....