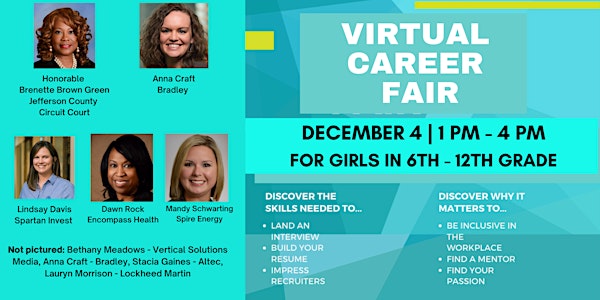 Virtual Career Fair
GirlSpring presents a virtual career fair: via Zoom for girls in 6th-12th grade.
About this event
In this virtual career fair, you'll meet women from a variety of career backgrounds! They'll share tips and best practices to help girls with the skills they need to get the perfect job, or help them determine what career field they are most drawn to! Attend via Zoom. Space is limited, please RSVP
Our speakers:
Dawn Rock, SVP and Chief Compliance Officer, Encompass Health
Anna Craft, Partner, Bradley
Stacia Gaines, Talent Acquisition, Altec, Inc.
Lindsay Davis, CEO, Spartan Invest
Mandy Schwarting, Regional Director, Alabama Operations, Spire Energy
The Honorable Brendette Brown Green, Jefferson County Circuit Court Judge
Lauryn Morrison, Lockheed Martin
Bethany Meadows, Vertical Solutions Media
Discover the skills needed to:
-Land an interview
-Build your resume
-Impress recruiters
Discover why it matters to:
-Volunteer
-Be Inclusive in the workplace
-Find a mentor
-Find your passion