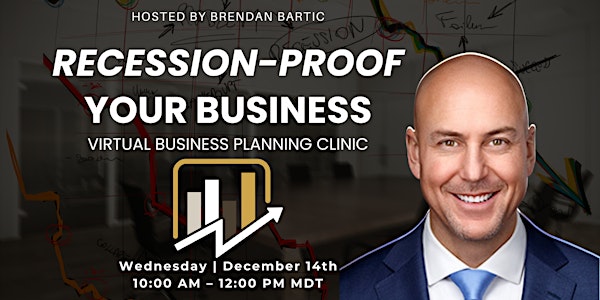 Virtual Business Planning Clinic
The market has changed...Have you? Recession-proof your business and accelerate into 2023 with our virtual business planning clinic.
About this event
OVERVIEW
Are you accelerating through the shifting market or are you in a free fall? Only 3% of all real estate agents have written goals and a plan for 2023. This action-oriented and targeted approach to goal-setting is backed by decades of research on human motivation and goal-setting psychology.
WHAT TO EXPECT
EXCLUSIVE goal-setting strategies
UNCOVER your real WHY
MANAGE your finances and earn more financial freedom
UNLOCK the secrets to time management
ACHIEVE a work-life balance with a million-dollar schedule
WHO IS BRENDAN BARTIC
Brendan Bartic is an industry leader, national coach, trainer, and creative builder of this Business Planning Clinic. During this virtual training, he will help you uncover your primary motivators, help you discover the goals that matter most to you, and provide you with a custom goal-setting experience unlike any you've been to in the past! Leave with Brendan's exclusive plan that guarantees you get EVERYTHING YOU WANT OUT OF 2023! He's done the work and research! Now it's time for YOU TO BUILD A BLUEPRINT TO UNPRECEDENTED SUCCESS!