Virtual Build-a-Mine Bootcamp
Virtual Build-a-Mine Bootcamp, November 14th - 18th, 2022. Learn how to launch your own bitcoin mining farm in 90 days or less.
Refund Policy
Refunds up to 30 days before event
Eventbrite's fee is nonrefundable.
About this event
Launch a Mining Farm in 90 Days
Learn from the experts what it takes to launch a Mining Farm in as quick as 90 Days!
FOR DETAILED INFO... go to https://www.buildamine.com to learn more.
Learn what it takes to become your own owner/operator and to get your facility filled with miners almost instantly.
November 14th - 18th, 2022 (Monday - Friday every morning)
5 consecutive days / 2-2.5 hours per day
Virtual class room, live via Zoom
Covered topics include:
Mining equipment procurement and setup
Mining site selection, discovery and evaluation
Hosting solutions
Temperature and airflow control and setup
Procuring power
Basic accounting
Business strategies and mindsets
Best safety practices
Electrical
Avoiding the most common mistakes
Remote mine management strategies
And more...
BONUSES:
Business growth coaching from SPEARity - to ensure you hit your milestones
A 20-minute 'ASK ME ANYTHING' call with Brad to help you get your specific questions answered
Explaining Your Crypto-Mine Business to Bankers
Want to mine, but can't find a hosting facility?
Is your wife tired of that constant obnoxious whirring sound and heat? Are you sick of paying residential power rates and want something more profitable?
If you live in USA and are seeking next steps to start a mining farm, I'll show you how to build your own mine, how to get the project funded, and how to get your facility filled with miners as quickly as possible.
Are you an entrepreneurial go-getter? I'm ready to share my 5 years of bitcoin mining experience with you.
I will give you a roadmap that will help you get on your way to owning and operating your own bitcoin mining farm!
~ Brad James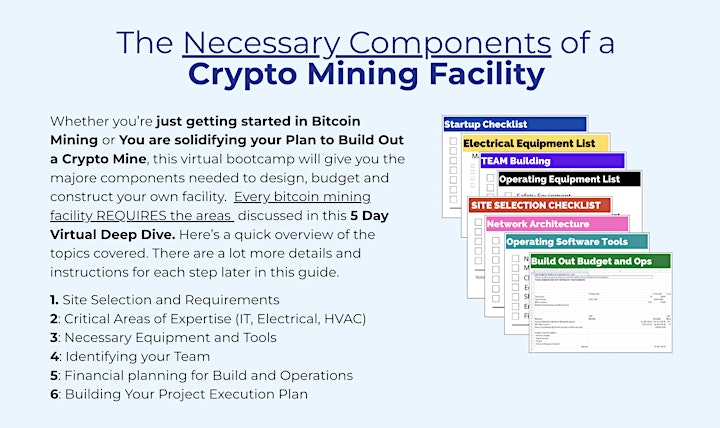 Testimonials
"I followed exactly what Brad said to do. I'm paraphrasing but 1. Don't freak out banks. 2. Explain it in terms they are familiar with and understand. Just wanted to share this so you all knew it was possible to do this alone and also to get an SBA loan." ~ Ramon F.
"Got a real solid plan going to become an owner operator! I like how this is going! I originally was going to look for hosting, but I think becoming an owner operator is quite possible instead. Just opened my eyes to how much I have to think through in order to launch this. So great to get a plan going." ~ Joe C.
"There's always a way to complete your goals. Your mindset is half the battle. The other half seems to be your personality and your team. This bootcamp helped me to reiterate that for myself." ~ Gary L
"It was exactly what I expected and more. I kind of know how to work and set up a mining facility in less than 100 rigs but it was just all a guessing game. But going through this training helped me to understand details of planning and even set up on a large scale. Also being able to ask any questions I had was very helpful. It was definitely worth the time and so makes me want to attend the in-person training…" ~ Rein A.