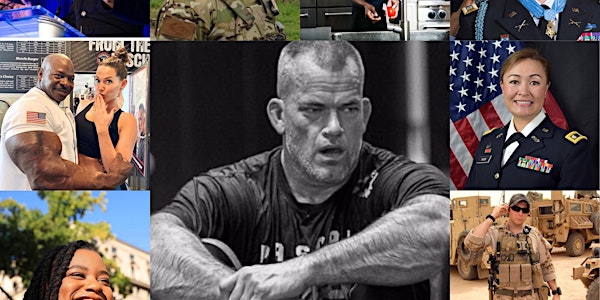 Virtual Bourbiz Resource Event for Veterans Day!
The Veteran/Military Spouse Resource Event is back on Nov 12th 2020 also giving away 20K for Vets Day sponsored by Rip It Energy Drinks
When and where
Location
Just need a computer to participate everyone, DC 20000
About this event
Virtual Bourbiz for Everyone! 
Virtual Bourbiz is back for Veterans Day with online experience highlighting a wide array of speakers and resources. Free for all to attend.  (Links for the event will be emailed to registered participants only)
We are also excited to announce the winners again this year for Ripit's 20K on Veterans Day Grant Contest. All 4 winners will be announced during the broadcast.
We are excited about the current lineup for that evening to include Jack Mandaville who always is our emcee:
Jocko Willink: Navy SEAL, NY Times Best Selling Author, Silver Star Recipient
Florent Groberg: Medal of Honor Recipient
Ralph Galati: POW(Vietnam), Silver Star Recipient, Inspirational Speaker
David Meltzer: Inspiration for the movie Jerry McGuire, Multiple Best Selling Author, Top 100 Business Coach, the executive producer of Entrepreneur's #1 digital business show, Elevator Pitch, and host of the top entrepreneur podcast, The Playbook.
Charlynda Scales: Ms. Veteran America (RU), CEO Mutt's Sauce, TEDx Speaker, Air Force Veteran.
Eli Crane: CEO of Bottle Breacher and Navy SEAL (As seen on Shark Tank)
Ken Falke: Author of Struggle Well and Founder of Boulder Crest Retreat, EOD Warrior Foundation and Hillvets
Chef Andre Rush: White House Chef, Inspirational Speaker 2,222 pushups a day.
Toni Williams: "The Queen Motivator" and founder of Queen Motivator LLC. Marine Corps Veteran.
Tim Jensen and Dan Eric: COO and Marketing Executive for Gruntstyle
Lt COL Justin Constantine: Inspirational Speaker, Ted Talk Speaker, Purple Heart Recipient
LTC Olivia Nunn: Solider For Life, Military Transition
Natalie Olivero: Navy Veteran, Military Transition Assistance
Sean Matson: Navy SEAL and CEO of Matbock of Co-founder of Strikeforce Energy
Pasha Palanker: 2X Purple Heart Recipient and Suicide Bomber Survivor
Come for the resources stay for the motivation and inspiration during these COVID19 unique times!
The Veteran/Military Spouse Resource Event will have the same ability to power network with so many resources
 Instructions will be emailed prior to the event on how to log on and view the event and participate.
 The organizers of the event reserve the right to not allow registered guests to participate in the virtual event. Complete names are required along with verifiable information. If you have registered with incomplete names or wrong information we reserve the right to forfeit that registration to ensure it is provided to a Veteran, Military Spouse or First Responder.