Virtual Book Study: Idaho Regions 5 & 6
Sales Have Ended
Registrations are closed
The book will be provided to you at no charge provided you complete the course expectations. Please contact Angie Godfrey (godfange@isu.edu) if you would like to purchase your own book or borrow one from the Regional Math Center. After Tuesday, January 16, you will be provided a link to register for one ISU credit. (optional)
Sales Have Ended
Registrations are closed
The book will be provided to you at no charge provided you complete the course expectations. Please contact Angie Godfrey (godfange@isu.edu) if you would like to purchase your own book or borrow one from the Regional Math Center. After Tuesday, January 16, you will be provided a link to register for one ISU credit. (optional)
Description
Join Angie Godfrey, Idaho Regional Math Specialist, for a weekly book study discussion (virtual). This book study is reserved for current teachers working in Idaho Regions 5 & 6.
Class Dates 4:00-5:00 pm
Tuesday, January 16
Tuesday, January 23
Tuesday, January 30
Tuesday, February 13
Tuesday, February 20
Tuesday, February 27
---
FAQ:
Can I get credit?

Yes. You will have the option of registering for 1 credit through Idaho State University. A registration link will be sent to you after the first class session.
How much is the book?

If you complete the course requirements the book will be provided to you at no charge. (FREE)
If you want to particpate but do not want to complete the course expectations, you may purchase the book yourself, or one can be provided with the understanding that you will return it the the Idaho Regional Math Center.
What are the course requirements?

Read all chapters
Attend all discussion sessions
For each chapter (9), write a short reflection about something that you tried out in your classroom.
Can my whole team participate?
Absolutely. Each person needs to complete the registration.
Can my whole school particpate?
Please contact irmc@isu.edu for more information about hosting a site-based book study.
---
About the book: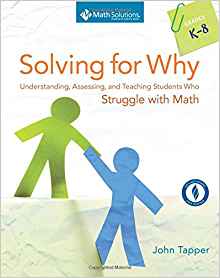 Solving for Why offers educators the tools and guidance essential for successfully solving for why students struggle with mathematics. The step-by-step, RTI (Response to Intervention)—like approaches, focused on assessment and communication with students, help teachers gain insight into student understanding in a remarkably different way than recipe-type approaches that assume the same solution applies to learners with similar struggles. With Solving for Why you'll learn how to:
identify

a struggling math learner;

develop

theories for why a learner may be struggling;

facilitate

a Concrete—Representational—Abstract (CRA) Assessment;

implement

an insightful Collaborative Study;

conduct

powerful student interviews;

support

learners who struggle with memory challenges, attention deficit disorder, and affective difficulties (math anxiety);

differentiate

instruction through a main lesson—menu lesson plan; and more.
John Tapper
256 Pages