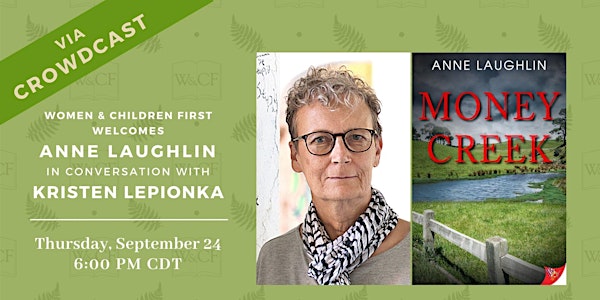 Virtual Book Launch: MONEY CREEK by Anne Laughlin
Join us for a virtual book launch in celebration of Money Creek by Anne Laughlin.
About this event
For this event, Anne will be in conversation with Kristen Lepionka. This event will be streamed on Women & Chidlren First's Crowdcast Channel.
All Clare Lehane wanted was a new start. When her problem with pills costs her her job in Chicago, she moves to Money Creek in rural Illinois to take up her legal career in a small firm and remake her life. But old habits die hard, and she soon finds a drug dealer, Henry, who turns out to be the son of her new boss. Henry blackmails Clare into helping him launder drug money, but his plans don't stop there: he intends to make her part of his cartel.
Everything changes when Clare goes to a party with Henry and his associates. While she's in the bathroom, the rest of the party is ambushed and killed. She flees the scene of the crime and calls in the murders anonymously. If anyone finds out she was there and saw the killer as they were leaving, she'd lose everything--the job she loves, her law license, and especially her burgeoning relationship with Freya Saucedo, a member of the local drug task force.
Clare is living a lie that runs deep, and telling the truth may come at a devastating price.
Kristen Lepionka is the author of the Roxane Weary mystery series. Her debut, The Last Place You Look, won the Shamus Award for Best First P.I. novel and was also nominated for Anthony and Macavity Awards. She grew up mostly in a public library and could often be found in the adult mystery section well before she was out of middle school. Her writing has been selected for Shotgun Honey, McSweeney's Internet Tendency, Grift, and Black Elephant. She lives in Columbus, Ohio, with her partner and two cats.
Anne Laughlin is the author of six crime novels. She is the recipient of four Goldie Awards for her work and has been nominated three times for a Lambda Literary Award. She has attended writing residencies at Ragdale, Vermont Studio Center, and others. Her short story "It Only Occurred to Me Later" was a finalist in the Saints and Sinners short fiction contest. She lives in Chicago with her wife, Linda Braasch.