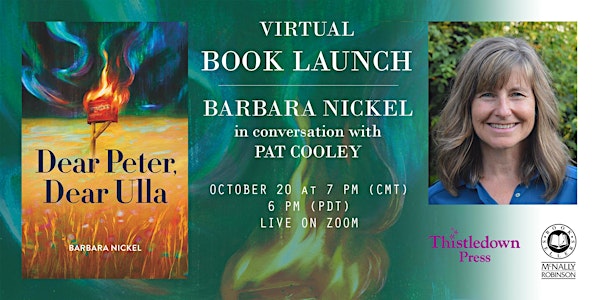 Virtual Book Launch: Barbara Nickel — Dear Peter, Dear Ulla w/ Pat Cooley
An evening of readings and conversation to celebrate Barbara Nickel's new middle-grade novel Dear Peter, Dear Ulla.
About this event
Join Thistledown Press and McNally Robinson (Saskatoon) for the launch of Barbara Nickel's Dear Peter, Dear Ulla. Barbara will be in conversation with Pat Cooley.
This event will take place on Zoom at 7 PM (CMT)/6 PM (PDT).
Dear Peter, Dear Ulla is an imaginative and beautifully crafted historical middle-grade novel about two cousins who have never met but have become fast friends through an exchange of letters—until the outbreak of World War Two interrupts their conversation.
Ulla lives in Danzig, a city that has just been occupied by the Nazis, and Peter lives on a Mennonite farm in Saskatchewan. What had been an easy and entertaining connection between Peter, a talented pianist, and Ulla, who is gifted at drawing, becomes fraught with unthinkable questions. Are they supposed to consider each other enemies now that Canada and Germany are at war?
While Peter deals with Bruno, a bullying neighbour boy, Ulla is secretly aiding Erwina, a Polish friend severely burned when her home in the Polish Post Office was attacked by the Nazis.
Unfolding in alternating chapters, the story will have young readers in thrall to the entwined lives of these two fiercely intelligent cousins who must confront issues of bullying, prejudice, and racial violence—some of the most challenging issues of their time, and ours.
BARBARA NICKEL grew up in Saskatchewan and has taught Creative Writing at the University of British Columbia. She has published acclaimed books for both adults and young people. Her children's titles include Hannah Waters and the Daughter of Johann Sebastian Bach, which won a B.C. Book Prize and was shortlisted for the Governor General's Award, as well as a picture book, A Boy Asked the Wind, which was a finalist for the Ruth and Sylvia Schwartz Children's Book Award. Barbara lives in Yarrow, British Columbia, with her husband and two sons.
PAT COOLEY is a retired high school English teacher who taught for thirty years. She has been the Rosthern (SK) town librarian for the past sixteen years, since her retirement from teaching. She is a passionate advocate for family literacy. A new interest is judging beginner, junior, and intermediate debating. She has been a National Level judge for Artistic Swimming for forty-seven years. Barb Nickel has been a long-time friend as well as a former student of Pat's English classes. Pat has been a fan of Barb's word choice ever since Barb was the editor of the high school newspaper, The Borscht. Pat is very proud to introduce young readers to Barb's books of both prose and poetry.