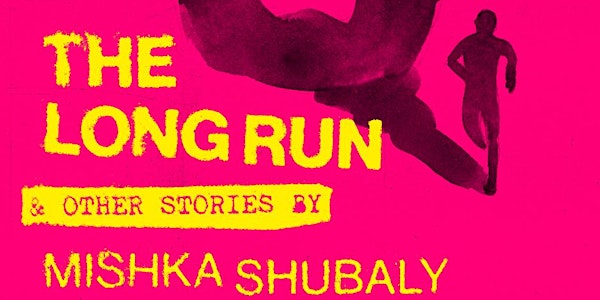 Virtual Book Club Featuring "The Long Run": Meet Mishka Shubaly
Road Runner Sports Virtual Book Club! Join us as we read a run or fitness inspired book each month through 2023
Date and time
Thursday, March 30 · 6 - 7:30pm PDT
About this event
1 hour 30 minutes

Mobile eTicket
Join us for our March virtual book club with Mishka Shubaly.
About "The Long Run & Other True Stories":
After nearly twenty years of chasing oblivion, a fight in a bar reveals to a newly sober Mishka Shubaly that he is able to run long distances. Despite his best attempts to dodge enlightenment and personal growth, the irreverent young drunk and drug abuser learns to tame his self-destructive tendencies through ultrarunning. His outrageous sense of humor, however, rages unabated.
WHAT OTHERS ARE SAYING ABOUT THE BOOK:
"Mishka Shubaly is a king. His stories read like a crazy-quilt of heartbreaking honesty and ball-busting comedy." - Mark Lanegan, recording artist and author of the international bestselling Sing Backwards and Weep
"Mishka Shubaly is not only my favorite author, but he is also my favorite singer/songwriter. He writes the kind of prose that gets stuck in your head for an entire weekend. He has such an amazing way with words." - Bert Kreischer, comedian
"Mishka Shubaly loves existence as much as he loathes it. For this? We get the grunge and the glory, the funny, and the fear. There's a sense here that Shubaly took the stairs to Life's basement, touched the concrete floor to be sure he knew where it was, before beginning the magnificent climb up, often laughing at his own propensities. Full of grit, guts, spirit, and truth; is there a better storyteller than the one who has lived as many lives as this? You will relish the spectrum, the gamut, the life Mishka Shubaly has lived." –Josh Malerman, New York Times bestselling author of Bird Box and Pearl
"We all mythologize our youths, in order to survive them. Mishka Shubaly's youth was more mythic than most—including seductive enchantresses, protean monsters, miraculous transformations, punishments both ironic and just, and a literal shipwreck—and he's also a better self-mythologizer than most. As with most myths, his stories serve as metaphors for our own more mundane plights and follies. They make you shudder with unwelcome recognition, and relief that we all survived." - Tim Kreider, author of We Learn Nothing
"Poet, ex-drunkard and degenerate Mishka Shubaly's storytelling is fearless, beautiful, gritty and most of all human." - Amy Dresner, author of My Fair Junkie
ABOUT THE AUTHOR :
In 2020, Mishka Shubaly's self-help audiobook COLD TURKEY: How to Quit Drinking By Not Drinking went to #9 on the NYTimes bestseller list. His mini-memoir "The Long Run" about his transition from drunk to ultrarunner has been translated into five languages and sold over 200,000 copies worldwide.
All seven of his Kindle Singles for Amazon have all been bestsellers, and Jeff Bezos himself wrote the foreword to his collection. His full-length memoir, I Swear I'll Make It Up to You, was released by PublicAffairs (Hachette) in March 2016.
Shubaly edited Mark Lanegan's memoir, Sing Backwards and Weep, which was named "Book of the Year" for 2020 by Rolling Stone/ Kirkus, Rough Trade, MOJO, and Variety.
Shubaly currently lives in Arizona and teaches a summer nonfiction/ memoir workshop at Yale.
Follow Mishka on Instagram: @mishkashubaly
SAVE THE DATE
Thursday, March 30 at 6pm Pacific to discuss "The Long Run & Other True Stories"
Link to the private Zoom call will be emailed to registered participants the day of the event. Have your questions ready as Mishka will be answering them live!