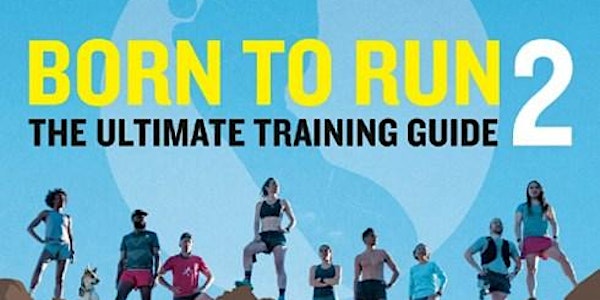 Virtual Book Club Featuring "Born to Run 2": Meet Christopher McDougall!
Road Runner Sports Virtual Book Club! Join us as we read a run or fitness inspired book each month through 2022
About this event
Join us for our January virtual book club with Christopher McDougall.
Born to Run's Chris McDougall and long-time running coach Eric Orton show us how to join the global barefoot running movement and explore the world on our own two feet.
Have your party hats ready as we celebrate the release of Chris's new book as well as make a toast to his Birthday!
About "Born to Run 2".
Born to Run 2: The Ultimate Training Guide teaches every runner, new or experienced, how to master humankind's first true superpower and tap into hidden reserves of strength and stamina. With chapters dedicated to the Free Seven - Food, Fitness, Form, Focus, Footwear, Fun and Family - we learn exactly how to change our biomechanics, clean up our diets, heal our injuries, adapt to healthier footwear, and prepare for our dream challenge.
Packed with advice and inspiring stories from runners who have made the transition, it includes:
- A rock-solid food primer on optimum diet and power-packed On the Run recipes
- Techniques for running with dogs and baby buggies to help you run with the whole family
- 'Perfect Form' exercises that will overhaul your stride in less than ten minutes
- A 90-Day Run Free Program, designed to give everything you need to run faster and farther, forever.
WHAT OTHERS ARE SAYING ABOUT THE BOOK:
'Invaluable' - WATERSTONES BEST SPORTS BOOKS OF 2022
'Born to Run 2 is a must read for every runner out there' Rich Roll
Follow Chris on social media!
Website: https://www.chrismcdougall.com/
Instagram: @chrismcdougallauthor
BUY THE BOOK:
https://www.chrismcdougall.com/buy-born-to-run-from-these-sellers/
SAVE THE DATE:
Thursday, January 26th at 6pm Pacific to discuss "Born to Run 2" and celebrate Chris's Birthday!
Link to the private Zoom call will be emailed to registered participants the day of the event. Have your questions ready as Chris will be answering them live!