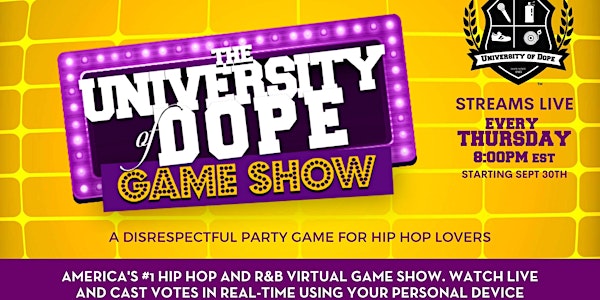 Virtual Black Trivia Game Night With Our Friends at University of Dope!
Grab your crew & fav beverage and join us for an interactive fun night of Hip Hop & R&B trivia! We're making friends around the the world.
About this event
This week you are invited to join us and our friends at University of Dope for a game night with friends.
The University of Dope Game Show will bring to the stage true hip hop fans to battle it out, with all new questions and challenges, for the title of Hip Hop Aficionado!
Viewers will be able to vote live for the correct answers and determine the winner!
HOW TO PLAY
- Like our page and wait for the live, or download the Unskrypted channel on your roku
- After joining the live, type the room code into your device to vote for the questions
- See the results in real time and pick the winner at the end of the show
https://www.universityofdope.com/
Don't forget to follow us on IG to see photos from our other game nights! - www.instagram.com/sipnplay.me