Black Business Owners need to network with other Black Business Owners!
About this event
Black Entrepreneurs from the following states have attended:
Georgia | California | Texas | Illinois | New York | Virginia | Florida | Colorado | Nevada | Maryland | New Jersey | North Carolina | Mississippi | Missouri | Ohio | Pennsylvania | Wisconsin | and more...
Black Entrepreneurs from the following countries have attended:
South Africa | United Kingdom | Nigeria | Canada | and more...
Collaboration is Key!
Black Business Owners need to network with other Black Business Owners
Event Features:
~ 3 Networking Segments
~ Business Recipe Swap
~ Spotlight Commercials
~ Business Breakout Rooms
~ and more
ABOUT THIS EVENT
In creating a 'new normal', we have established a sequence of virtual events committed to providing you a platform to successfully economically strengthen and widen your network!
Register now, our virtual events are always memorable!
Our Virtual Networking Events are designed to accomplish 3 goals:
1. Connect. Connections are about building a community. The greater the community, the stronger the collective support of your business goals.
2. Collaborate. It is a basic strategy to seek collaboration to enhance the value of your business. Liken it to finding the yin to your yang.
3. Refer. Referrals are all about building relationships. The more relationships you develop, the higher chance of finding your ideal client.
WHAT YOU WILL GET FROM THIS EVENT
Meet 8-12 new people that can become referral partners for your business
Hear from organizations you can join to get resources for your business
Introduced to companies with business services to help improve your business
Get ideas on how to run your business better
Interact with other entrepreneurs who think just like you!
ABOUT US
Urban Atlanta is an event-based organization determined to help Black Entrepreneurs succeed. Our goal is to create a platform that makes it easy to do business with Black Business Owners.
We are the fastest growing networking community of Black Entrepreneurs and Black Business Owners in Atlanta, Georgia. We believe that when people physically meet (even virtually), it positions them and provides them with the freedom to build a framework for financial freedom and independence.
We've embarked on a movement towards positive change via driving and recycling black dollars within our community! Learn more and stay in the know and join our email listing here UrbanAtlanta.org.
Register NOW. We'll see you there!
Check out one of our in-person event videos: https://vimeo.com/279533988/ccb57b4f87
Urban Atlanta Team
(Urban Atlanta is powered by ProNetworker Events)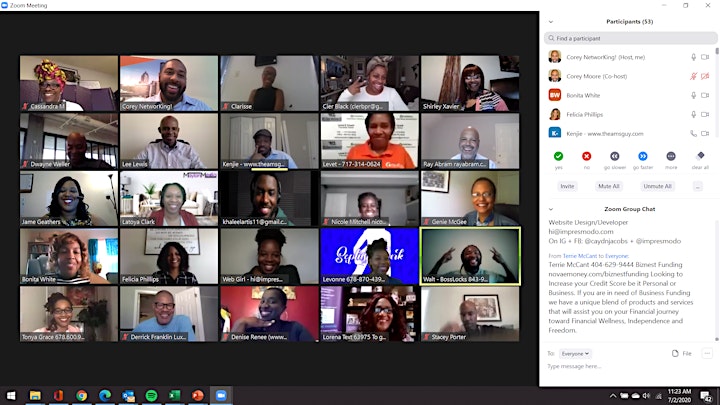 Organizer of Virtual: Black Business Networking Event