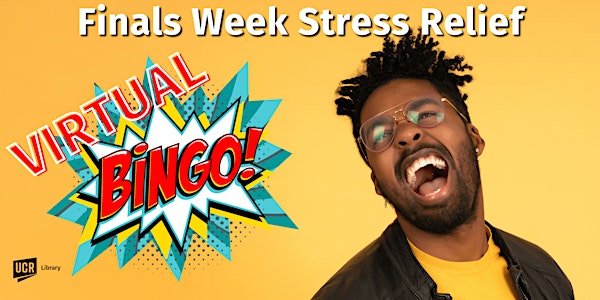 Virtual Bingo with Finals Week Stress Relief
There's always room for Bingo! Join us for a chance to win like never B-4 with a fun Bingo event with the Finals Week Stress Relief Team.
About this event
Date: Tuesday, Nov. 29
Time: 2 p.m. and 6 p.m.
Location: Virtual
RSVP is required. Zoom link will only be sent to those registered with their R'Mail address.
Join us for a Virtual Bingo event to socialize with your fellow Highlanders and for a chance to win gift cards!
Take a break from your busy finals week schedule and spruce up your life with a bit of Bingo! There will be multiple rounds and multiple chances to win during each hour-long event (one at 2 p.m. and one at 6 p.m.)!
Registration open to currently enrolled UC Riverside students. Please use your R'Mail address to register.