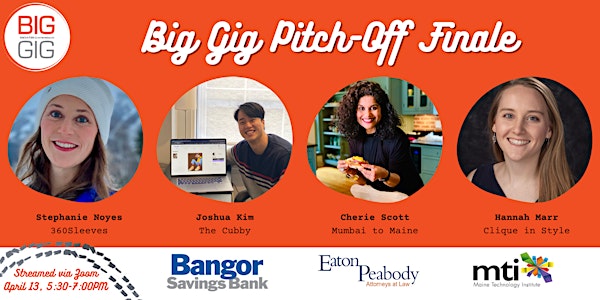 Virtual Big Gig Entrepreneur Pitch-Off (Finale)
Tune in to see which of the four entrepreneurs' business or idea will win the $5000!
About this event
The Virtual Big Gig Finale is April 13th, and it's the culmination of our 2020/2021 Big Gig Season! Three of the entrepreneurs received a spot by winning a regular season Big Gig Pitch-Off, and the 4th entrepreneur gained entry by being voted the favorite "wild card" over our social media account! These four entrepreneurs, Josh Kim of The Cubby, Stephanie Noyes of 360 Sleeves, Cherie Scott of Mumbai to Maine, and Hannah Marr of Clique in Style, now get to pitch their innovative, early-stage businesses or business ideas to our panel of judges and the virtual audience. Our ZOOM audience and judges will then get to cast votes for their favorite entrepreneur to determine which one will walk away with $5000! AND while the judges are deliberating a "Big Rig" guest speaker will talk about their entrepreneurial journey and how they got to where they are today. Hope to "see" you there supporting Maine's entrepreneurial community!
The Entrepreneurs
Cherie Scott - Mumbai to Maine
Joshua Kim- The Cubby
Stephanie Noyes - 360 Sleeves
Hannah Marr- Clique in Style (Wild Card Entry)
The Judges
The "Big Rig" Guest Speakers
Brian Rahill and Matt James- Co-Founders of CourseStorm, a class registration software startup that was recently named one of the top ten "2021 Maine Tech Startups"
Proudly Sponsored by: