Virtual avaHour with Ginger & Olivia

Wednesday, July 22, 2015 from 8:00 PM to 8:30 PM (EDT)
Event Details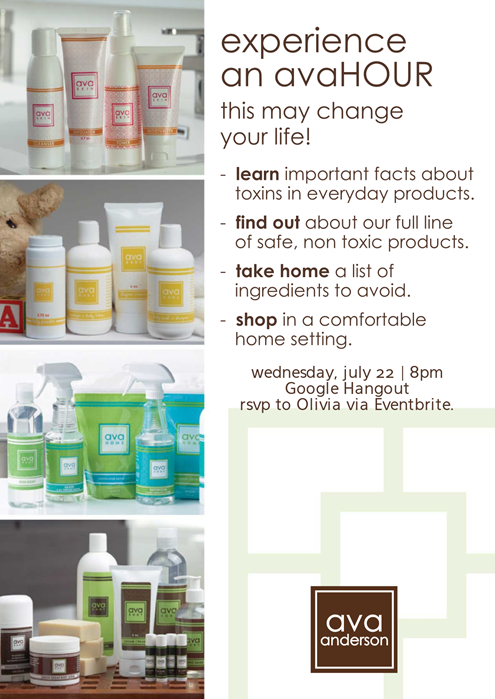 If natural personal care products are something you're 100% sold on, are kinda curious about, or have had a bad experience with, then join me and Ginger for this virtual AVA party. Ava Anderson makes outstanding quality products for your skin, home, pets, and kids all without chemicals. 
FAQs
Who is Ginger?
Ginger Stabach is a founding bronze executive team leader for Ava Anderson Non-Toxic. She lives in Barrington, RI with her husband and three sons. Read how she healed her asthma by switching to nontoxic products.
What's Ava Anderson Nontoxic? I've never heard of it before.
Lots of info here: http://avaandersonnontoxic.com/ginger
How do I use Google Hangout? 
I'll send you details on how to attend this Hangout in the confirmation email but you will need:
1. A device that goes on the internet (phone, tablet, laptop,desktop, kindle, etc) and has a webcam.
2. A STRONG internet connection.
3. A Google Plus account. It's free. If you use Gmail or YouTube, you already have one. If you don't, sign up here: https://accounts.google.com/signup
4. Headphones (optional, but makes it easier for us to hear you.)
5. The frst time you attempt to attend a Hangout you'll be prompted to install special software. It's free and necessary to use to attend any Google Hangouts. Start using Google Hangouts early (at least 10 minutes before scheduled start time or during random free time before the event) so you can take care of that task then.
Learn more about Google Hangouts: http://www.google.com/+/learnmore/hangouts/