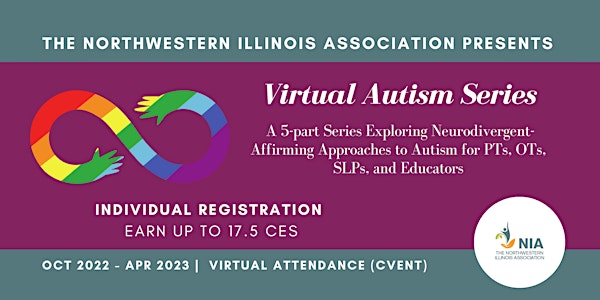 Virtual Autism Series (INDIVIDUAL REGISTRATION)
Five virtual speakers throughout the 2022-23 school year presenting continuing education and treatment techniques for autistic students.
About this event
REGISTRATION CLOSED to register attendees for Nov 2nd & 9th sessions. Registration will reopen until November 11th.
Registered participants will have access to the first three session to view on-demand and will still be able to access the remainder of the series Live if registered after November 11th.
AVAILABLE ON-DEMAND:
The Neurology of Autism to Create a Psychologically Safe Environment for Autistic Student, presenter Brenda Myles
UPCOMING LIVE:
Wednesday - November 2 (part 1)12:30pm - 3:30pm , November 9 (part 2)12:30pm - 3:30pm
Journey to Self-Generated Language,presenter Marge Blanc, M.A., CCC-SLP
Wednesday- December 7, 2022 8:00am -11:00 am
What's Energy Got to Do With It? Supporting Regulation in Authentic and Validating Ways, presenters Dr. Jacquelyn Fede and Dr. Amy Laurent
Wednesday - March 15th 2023 12:30pm - 3:30pm
Getting a Jump on Motor Skills - Launching into Autism from a Movement Perspective, presenter Madonna Nash OTR/L
Wednesday - April 19, 2023 12:00pm- 2:30pm
Now It's Your Turn: Incorporating Knowledge of Autistic Culture into Therapeutic Practice, presenter Rachel Dorsey, M.S., CCC-SLP
***INDIVIDUAL REGISTRATION ONLY ***
Experience this course designed for therapists and educators:
-Earn up to 17+ HOURS OF CE & EI CREDIT
-All CEs & course certificates** provided by the NIA electronically following each session
Easy Access for all course participants with the brand new Attendee Hub (app and website):
-View all speaker content
-Join each Live-streamed session, and view session information following each presentation all in one place
-Enjoy bonus speaker resources available for download in the Attendee Hub
-Experience the event LIVE with virtual-viewing or watch recording for up to *90days in the Attendee Hub
What to Know before you register for the Virtual Autism Series:
For Individual Registrants: Access to all virtual course information and access to the Attendee Hub will be provided via email within 2 weeks of the Series Kick-off in October.
In the new Attendee Hub, participants will enjoy this virtual series with easy and secure access to all LIVE and recorded presentations as well as additional resources and professional information for each presenter and key topic addressed in this series.
*Access to some recordings may vary per speaker (will be indicated clearly in your Attendee Hub), but all content will be available as recorded content for a limited time following LIVE date.
**Per PT licensure regulations, designation of participation as either LIVE or RECORDED for all attendees will be indicated on CE Certificate for each session. Attendees will be required to log-in to Attendee Hub with email used to register in order to be eligible for receipt of course certificate.
Due to the duration of this series and individualized access to recorded content, refunds will not be available and all tickets purchased are final sale. Dates and times are confirmed and are not likely to but subject to change, if changes occur participants will be notified in the attendee hub and all reasonable accommodations will be made.
Contact pd@thenia.org for inquires or additional event details.
If you require specific accommodations for accessibility in the live-stream format, please indicate your request on your registration form.
Registered attendees check your email (spam) for your virtual website invitation
Follow the steps to log in:
1. Please log in with your registered first name, last name, and email address.
2. You will receive a 6-digit verification code* on your email address in your inbox or Spam folder.
3. If you cannot find your confirmation email, please contact pd@thenia.org with your registration confirmation number. We will do our best to assist you with any technical needs.
*Must be registered through eventbrite to receive access to the Course Series Website.