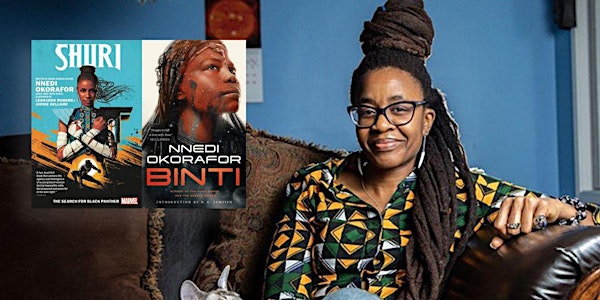 Virtual Author Visit: Nnedi Okorafor
A Virtual Visit with Afrojujuist Author Nnedi Okorafor
By Cleveland Public Library
When and where
Date and time
Starts on Saturday, November 20, 2021 · 4pm PST
About this event
Cleveland Public Library presents author Nnedi Okorafor as part of Maker Faire Cleveland 2021.
The author will join us via Zoom. Click the REGISTER button to the right to access the program via Zoom, wherever you are.
Coming to Maker Faire? Watch there, instead!
If you're up for an in-person event where you can view Nnedi Okorafor's visit with a live audience and also enjoy free admission to the Great Lakes Science Center and the NASA Glenn Visitor Center (including free parking), a free IMAX movie in the Dome Theater, and free access to all of Maker Faire Cleveland 202``1, please register for Maker Faire Cleveland 2021 here.
Nnedi Okorafor describes herself as a Naijamerican, PhD-holding, World Fantasy, Hugo, Nebula, Eisner Award-winning rudimentary cyborg writer of africanjujuism and Marvel's Shuri. She is the author ofW ho Fears Death (in development as an HBO series), the Binti novella trilogy (also optioned and in development), The Book of Pheonix, and the Akata series, along with writing for Marvel's Black Panther, Wakanda Forever, and Shuri series. Her newest book, Noor is due for release in November 2021.
American born of Nigerian descent, Nnedi's African roots infuse her characters and her stories. She describes her work as afrojujusim…placing stories, including futuristic ones, in a setting true to African life as it is lived on the continent today. It weaves together the complexities of modern African life with the traditional cosmologies, stories of the ancestors' cultural mythologies, and histories. As the present and the past meld, stories organically give birth to fantasy and futuristic imaginings as a natural part of the African experience. "It is not," as Okorafor puts it, "fantasy for fantasy's sake." It attempts to capture a fantasy that is "more real than the everyday."
About the organizer
Cleveland Public Library is the "People's University," the center of learning for a diverse and inclusive community. We are the driving force behind a powerful culture of learning that inspires Clevelanders from all walks of life to continually seek out, learn and share knowledge in ways that are beneficial to themselves, their community and the world.  Find out more at www.cpl.org.