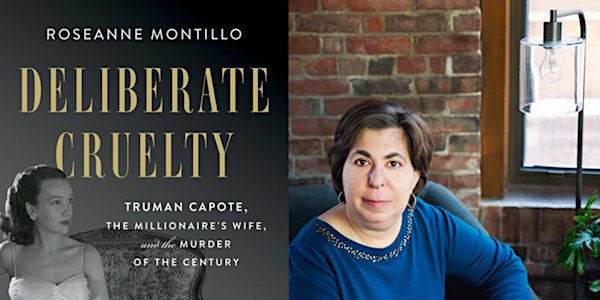 Virtual Author Talk with Roseanne Montillo
Nonfiction Author, Roseanne Montillo will discuss her latest book, Deliberate Cruelty via Zoom!
Date and time
Thursday, March 30 · 3:30 - 4:30pm PDT
About this event
Roseanne Montillo is a nonfiction author from the Boston area whose latest book Deliberate Cruelty: Truman Capote, the Millionaire's Wife and the Murder of the Century was recently published in November of 2022. Anyone interested in the darkly intriguing true-crime story of Truman Capote is sure to be fascinated by Montillo's book.
This is a deeply researched yet utterly page-turning account of Truman Capote and Ann Woodward's darkly intertwined fates. From their childhoods to their deaths, Montillo shares the intimate and surprising details of Ann and Truman's lives and reveals how Billy Woodward's murder sent them both into a downward spiral that would eventually wreck Truman's career and drive Ann to suicide.
ROSEANNE MONTILLO is an accomplished research librarian who earned her MFA from Emerson College and has taught creative writing at Emerson and the Tufts Extension School. In addition to Deliberate Cruelty, she has published four previous works of narrative nonfiction to critical acclaim—Fire on the Track, The Wilderness of Ruin, Atomic Women, and The Lady and Her Monsters. She resides in Massachusetts with her family.