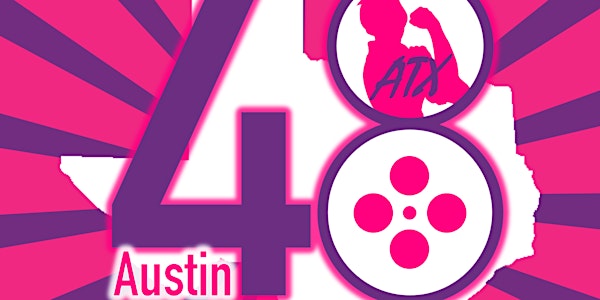 VIRTUAL Austin 48 Hour Film de Femme Premiere Screenings & Awards Show
Eleven teams took on the Special Challenge of creating films solely within the Film de Femme genre. Here are the stories they produced.
Refund Policy
Contact the organizer to request a refund.
Eventbrite's fee is nonrefundable.
About this event
TICKETS ONLY AVAILABLE OUTSIDE OF TEXAS UNTIL NOVEMBER 21ST!*
Never heard of a Film de Femme? That's because we invented it! This genre is specifically designed by the 48HFP to encourage strong roles for females in 48HFP films. A Film de Femme is a film featuring one or more strong female characters. Romantic comedies or chick flicks are included in this genre, but are only a subset.
What's a strong female character? Think Taraji P. Henson, Janelle Monae, and Octavia Spencer in "Hidden Figures," Jennifer Lawrence in "The Hunger Games," and Moana in Disney's "Moana." Smart and complicated... and contrary to public opinion, strong women characters are not required to kill someone!
Ten teams stepped up to the challenge and made a Film de Femme short outta nuthin' in just 48 hours. Given a pair of SubGenres they may have never heard of before, a Prop, a Character, a Line of Dialog and only two days to come up with a piece of entertainment (that is actually entertaining), you just can't imagine the ATOMIC power of such hyper-creativity! Now... here's the proof!
Today's issues make this a very timely topic. Stories in this category have the power to influence future creatives. Come see the Premiere Screenings for the Austin 48 Hour Film de Femme Project at AFS Cinema.
Tickets are $10 with Eventbrite fees absorbed (no surprises for you).
Featured Teams/Films:
"Static" from Catwalski Studios (Spice Up Your Life / Self Care)
"Savage" from Texas Film Makers (Femme Fatale)
"Witchy GroMO" from Phoenale (Get S.T.E.A.M.-Y)
"Bless Her Heart" from Team El Guapo (Speechless / Cozy Mystery)
"Godmother" from Nunchuck Studios (Femme Fatale)
"Jenny Studios" from Jonny Studios (Besties Sisterhood)
"Cabaret Sauvignon" from bondproductions (Burlesque / Disenchanted)
"The Well" from CM9 Films (Self Discovery)
"Cognitive Distortion" from Ladies of the Lakes (Scream Queen)
Sponsored by: