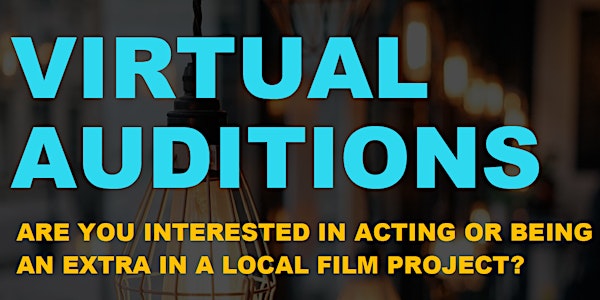 Virtual Auditions for Reducing Mental Health Stigma Video
Residents (15 to 21) are invited to audition for a part in a short film produced by Fremont's YFS Division, sponsored by Kaiser Permanente.
By Larry Ewings (Director/Producer/Recording Artist)
Date and time
July 9, 2020 · 7am - July 31, 2020 · 5pm PDT
About this event
The City of Fremont's Youth & Family Services Division will be hosting virtual auditions in July 2020 for casting in an upcoming film with the theme of "Reducing Mental Health Stigma". Auditions are open to any youth and young adults ages 15-21 who are interested in or are already pursuing acting careers. No professional experience is required.
To participate in the virtual audition in July 2020:
1. Click "Register" in the Eventbrite page to indicate your interest.
2. An acknowledgement of your interest and registration will be emailed to you by the film's Project Manager
3. You will then receive another email from yfs@fremont.gov with your application packet
4. Complete the attached documents and send them back ASAP. You'll also need to provide the following documents:
A copy of picture ID (School ID or California ID)
Acting "Headshot" (photo of actor from the chest up)
Signed Virtual Audition Participation Agreement Form (if below age 18, we will need both student and authorized legal guardian's signature)
Signed City of Fremont Photo/Video Release Form (if below age 18, we will need both student and authorized legal guardian's signature)
5. Upon receipt of completing the application packet, yfs@fremont.gov will email you a link for your virtual audition meeting with date and time specified
6. Attend virtual audition event
7. Actors selected for the film will be notified within 7 business days from their audition date
If you have any questions about the virtual audition or the video project, please email yfs@fremont.gov and a team member will assist you.
For actors selected for the film, the following steps are required:
Attend a virtual video orientation meeting (TBD)
Attend 2-3 production meetings both virtually and in person (TBD)
Sign an agreement committing to a minimum of three days of filming scheduled between August 1st – 30th 2020
Sign a City of Fremont Activity Participation & Release Agreement (if below the age of 18, we'll need both student and authorized legal guardian's signature).
Follow various safety standards while taking part in the filming process (due to COVID-19)
About the film: 
The story is about Sage, a 16 year-old Junior in High School who has a love for art, is loyal to her friends, and wants to be successful in life. She's been struggling over the past year with a variety of internal battles including anxiety and depression, pressure to excel in school, and everything that comes with being a teenage girl. College is right around the corner and she's beginning to feel the pressure to make important choices that have to do with her future. Her parents work extremely hard but are rarely home to spend any quality time. They have very high expectations for her but are not aware of current struggles. These issues are beginning to noticeably spill over in her everyday life and she's wrestles to find the courage to talk to someone she can really trust. In the midst of trying to finishing her final art project of the year, certain people rally around Sage and support her to finally seek help, and speak out about her issues which also unleashes her creative inspiration. 
Purpose of the film: 
1. To highlight the issues that many students go through while in high school
2. The mental health stigma that prevents students from reaching out to get help
3. The importance of recognizing mental health issues in others
4. The importance of peer and professional support
5. The benefits of allowing oneself to get the needed support
Casting Needed for:
• Sage, 16/Female - Main Character
• Friend 1, 16/Female - Sage's Friend
• Friend 2, 16/Female - Sage's Friend
• Classmate 1, 16/Male - Art Classmate 
• Classmate 2, 16/Male - School Classmate
• 5 - 10 Extras for classroom scene - Classmates 
Thank you again for your interest and the best of luck!
About the organizer
Larry Ewings is a independent artist/creative with over 20 years of experience specializing in Film & Music, Hospitablity Services, Organizational Leadership, and Positive Youth Development.