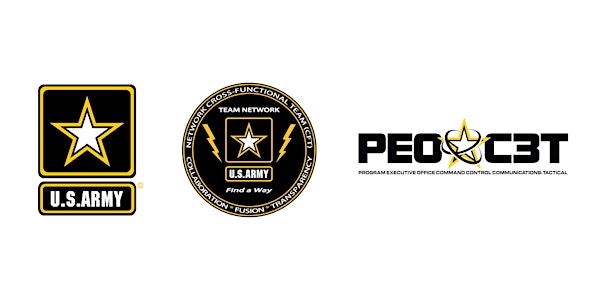 VIRTUAL ATTENDEE: U.S. Army TEM 8: Data Centric Ops with CS 25/27
U.S. Army Network Technical Exchange Meeting (TEM) 8: Data Centric Operations with Capability Set 25/27
About this event
ANNOUNCEMENT:
The Army's Network-Cross Functional Team, in collaboration with Program Executive Office C3T, will host a network-related technical exchange meeting (TEM) on May 9 and 10, 2022 in Philadelphia, PA, to discuss Capability Set 25/27 development efforts and focus areas. User experiences and current operational environments have shown that capability set efforts should be transport agnostic, data centric and offer security architecture approaches and standards to provide interoperability, data accessibility and identity management. As the Army shifts to a Division centric unit of action environment, capability sets will take into account data and connectivity needs at Division level and supporting elements.
Capability Set 25 (CS25) will build upon Capability Set 21 and 23 and focus on automation and network resiliency/protection. CS25 will introduce CMOSS capability, enhanced network security including Identity, Credential, and Access Management (ICAM), Air Tier (air to ground) networking and Command Post Computing Environment Data Fabric and cloud enabled capability.
TOPICS:
TEM 8 will be structured to focus both on helping industry shape R&D efforts to better align with Capability Set 25 and 27 design themes and offering white paper opportunities for 6.4 funded technology needs. Topical focus areas of this event will include: Division level, Special Operations and MDTF formation user feedback discussions; experimentation strategy forecast; standards implementation including updated CMOSS roadmap and opportunities; detailed update on command post modernization (CPI2) program; network security and resilience topic panels and opportunities.
AGENDA (draft as of 30 Mar):
09 May:
1030-1700 Registration
General Session (Grand Ballroom):
1300-1310: Welcome Remarks
1310-1330: Introduction Remarks
1330-1400: Keynote: Army CIO
1400-1500: Capability Set update
Topics: CS network design goals, design goal alignment to S&T and 6.4 efforts, CS program execution/events, CS network transport design goals and technical focus areas
1500-1515: Break (transition to topic focus areas)
1525-1610: Unified Network Operations Strategy
Topics: Informational session. Review and update of Unified Network Operations strategy, operational needs, requirements timeline, program alignment
1610-1715: Unified Network Operations: Program Efforts
Topics: Program execution focus with acquisition approach, execution timelines and RFI/RFP status discussions
Special Topic: Command Post Integrated Infrastructure (Franklin Ballroom)
1520 – 1600: CPI2 Today and Opportunities for Tomorrow
Topics: Panel will provide a summary of operational assessment activities and the feedback gathered, a discussion of possible requirement changes/updates within the CPI2 CDD and areas of possible technology insertion beyond CPI2 Increment 0.
1600-1715: CPI2 Increment 1 program update
Topics: CPI2 program execution timeline, milestones; CPI2 Increment 1 acquisition strategy changes, trade off/technical opportunities, review of RFI.
1800-end Reception (Restaurant 13 in Philadelphia Marriott)
10 May:
0815-0830 Welcome/Administrative Comments
0830-0900 Keynote: Senior Leader
0900-0930 Keynote/QA: Army G6
Discussion Topic Proposal: Equipping and organizing our Signal Forces as the Army builds the MDO capable force of 2028 and MDO ready force of 2035.
0935-1030 Network Modernization: A Futures Discussion
Topics: A fireside chat: Disruptive technology, data fabric integration, AI/ML
1030-1100 BREAK
1100-1200 Warfighter Panel: Data Centric Environment: Integrating Across Echelons/Formations
1200-1245 LUNCH
1250-1345 Data/Cloud Panel
Topics: Interactive strategy focused discussion with moderated and audience Q/A outlining the implementation of the Army's data strategy, data agility/analytics, tactical data fabric execution and cloud use case implementation.
1350-1430: Tactical Data Fabric implementation and 6.4 technology opportunity
Topics: Overview of Command Post Computing Environment tactical data fabric integration for CS23 and beyond. Introduction of Data Fabric Ingest Tool 6.4 funded white paper opportunity to support CS25.
1430-1450: BREAK
1450-1540: Air Tier Networking
Topics: Informational session. Introduce the differences between the sensor to shooter and air to ground communications missions needed for the aerial tier. Discuss design goals for ATN aerial communications, near-term technology focus areas (RANGE) and long term S&T efforts, experimentation efforts, areas for future industry innovation.
1545-1630: CMOSS implementation update
Topics: Review of RFI, discussion of standards and MOSA offices, program roadmap and contracting/acquisition strategy, card prioritization overview
1630-1715: CMOSS 6.4 funded Capability Set Opportunities
Topics: CMFF Chassis Software Infrastructure; Next Generation BFT Aviation CMOSS Solution
1715-1730 Closing Remarks
ATTENDANCE:
This event is meant for a technical audience, to include systems engineers, architecture experts, data experts, and integrators. Each session will offer an opportunity for an in-depth discussion between audience members, Army network technical experts, and user community representatives. This will enable vendors, in an open session, to ask questions for clarification, operational understanding, and technical understanding. Each topical session will have a moderated panel that will field questions from attendees.
Due to COVID-19 restrictions, this technical exchange meeting will be conducted as a hybrid event, meaning participants may choose whether to attend in person (paid registration) or virtually (no cost).
Registration is required for this event whether you are participating in-person or virtually.
You are currently on the registration page for virtual attendance.
If you wish to register as an IN PERSON attendee instead, please visit: https://armytem8inperson.eventbrite.com. NOTE: You must be fully vaccinated in order to attend the event in person.
FOR VIRTUAL ATTENDANCE:
The Government will provide an MS Teams Live link for unlimited virtual attendance at no cost. Virtual attendees will be allowed to ask questions through moderated Q&A chat feature within MS Teams Live. Virtual attendees will be emailed a link two days prior to the event start.
The deadline for virtual registration is 5 p.m. on May 2, 2022.
SAM ANNOUNCEMENT:
https://sam.gov/opp/676335a5b8b344deb17acb0fc5b5928d/view
NOTE:
The U.S. Army will make every effort to hold this meeting at the dates, times, and locations specified. The U.S. Army holds the right to cancel and/or change session event dates, times, and locations under certain conditions. These conditions usually include, but are not limited to: inclement weather, event venue cancellation or rescheduling, speaker cancellation or rescheduling, and insufficient number of participants for the event. The U.S. Army holds the right to cancel the event for any reason up to and including the day of the event. If the U.S. Army must cancel the event, the U.S. Army is not responsible for costs incurred in preparation for the TEM. In the event of predicted inclement weather, a decision will be made by 1700 EST on the prior day. If the event is cancelled, the notice will be posted on this website and an email will be sent to all registered participants.
FORUM BACKGROUND:
The U.S. Army Network Cross-Functional Team and the Program Executive Office for Command, Control and Communications-Tactical, along with Army partners, regularly host technical exchange meetings and industry forums as a means of exploring the art of the possible to meet Army network needs. The intent of the sessions is to enhance Government and industry communication and enable industry to respond quicker to critical emerging requirements with innovative technology solutions and partnerships. Questions are permitted during the meeting; however, questions in regards to any portfolio system in current source selection are not allowed. Informational slides are posted to SAM prior to the technical forum.