Artist in Residence Nick Vest will share about his practice, past work, and future directions.
About this event
Join us for a virtual artist talk with Artist in Residence Nick Vest, to mark the beginning of his 2022-2023 residency in the AMOCA Studios. Vest will share about his practice, past work, and future directions. There will be an opportunity for Q & A following the presentation.
Nick Vest was born in Lancaster, Pennsylvania. He received his MFA from Kansas State University and his BFA from Alfred University. Vest has been resident artist at Shangyu Celadon Modern International Ceramic Art Center; the Gaya Ceramic Art Center in Bali, Indonesia; and the Quiong Lai Ceramic Center in Sichuan, China. He established a personal studio in Jingdezhen, China, in 2016. In 2018, he opened the MenLo Gallery and Studio in Jingdezhen, which aims to celebrate the risk-taking and innovative work of young Chinese artists, as well as to offer non-traditional ceramic artists from abroad residency and exhibition opportunities. Vest will be in residence at AMOCA July 2022–March 2023.
AMOCA's Artist in Residence Program, established in 2012, is one of the few long-term fellowship opportunities for ceramic artists on the West Coast. This residency provides artists an opportunity to produce or develop a new body of work. The program is funded through generous support from Julianne and David Armstrong, Laguna Clay, and the Windgate Foundation.
Pictured top: Nick Vest, An inflection point on an architectural timescale. Porcelain, antique wood guardian figure. 21 x 30 x 5 inches.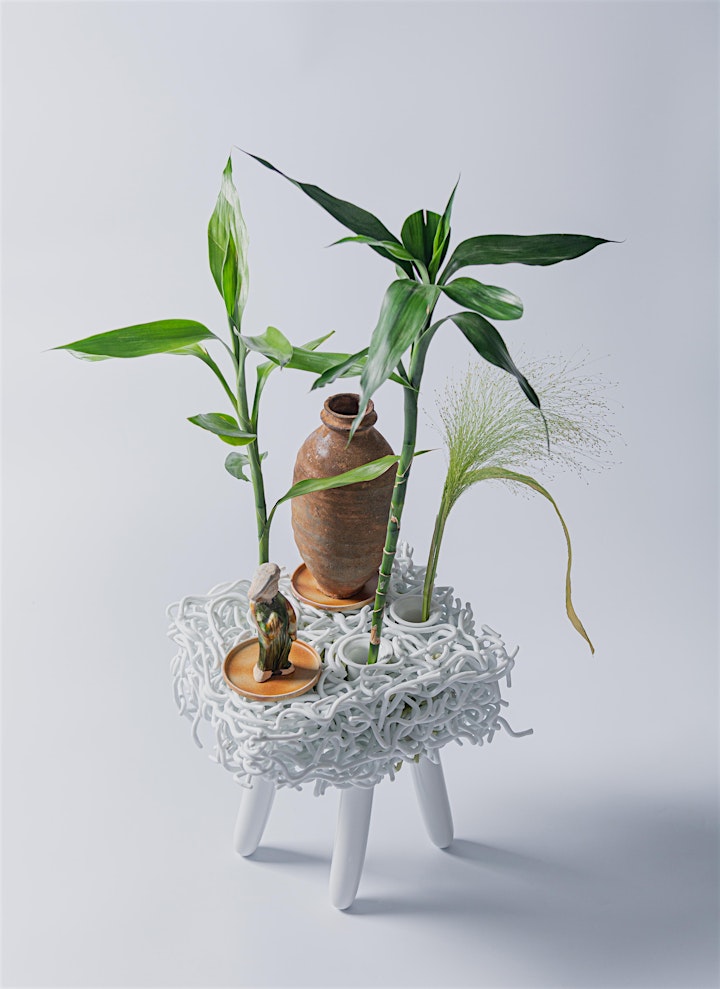 Pictured above: Nick Vest, Lady Vase Vase. Antique ceramic bottle, "Antique" ceramic figurine, porcelain (pictured with plant) / slip cast tube vase glaze fused within a mass of glaze fused coils. 29 x 13 x 13 inches.