Virtual Art Salon: Immigrant Artist Mentoring Program
About this event
The New York Foundation for the Arts (NYFA)'s Immigrant Artist Mentoring Program (IAP) is pleased to announce our first Virtual Art Salon with artists Adishetu Oyibo, Juan C. Escobedo, Tanika I. Williams, Han Qin, Kiana Honarmand, and Fernando Vieira. Created and produced by IAP alum Rupy C. Tut and Jason Wyman, the Virtual Art Salon gives art lovers from across the world a rare opportunity to see new artworks by immigrant artists in San Antonio, Oakland, New Jersey, and New York, learn more about the artists and their process of making it, and watch peer-based feedback on a question asked by the presenting artist.
With the rise of COVID cases and the ongoing closure of art venues, it is crucial artists and arts organizations find new ways to highlight art and its making. The Virtual Art Salon is one model Rupy and Jason, with the support of NYFA Program staff, designed to address this need.
Over October and November, Rupy and Jason hosted a series of conversations, workshops, coaching sessions, and rehearsals focusing on storytelling and technology. They focused on who each artist was, what and how they made their work, and what technology resources they knew or had access to. Together, Rupy, Jason, and the individual artists crafted virtual presentations where the story, technology, art, and artist align.
Through performance, video, installation, drawing, social practice, poetry, and vision, these artists explore themes of movement, routine, gender and sex, nature, autonomy, and migration. Each artist has 10 minutes to present their art and story. At the end, the presenter will receive structured feedback from two fellow artists.
Between artist presentations, Rupy and Jason will share more about the Virtual Art Salon and how to find and follow the artists online.
NOTE: Virtual Art Salon Artists are presenting via Zoom Webinar. Attendees will be able to watch the entirety of the presentations and feedback sessions. To provide as positive and helpful of a space as possible for honest feedback, chat and questions and answers will be disabled for attendees of the Virtual Art Salon.
ACCESSIBILITY NOTE: To request accommodation or assistance to attend this event, please email i.outreach@nyfa.org. We ask that requests for accommodation be made as soon as possible or by November 25, 1 pm EST, 2020, to allow adequate time for staff to support your specific needs.
Virtual Art Salon Presentation Descriptions + Times
1:10PM PST/4:10PM EST - Adishetu Oyibo -- How humanity lost it's autonomy due to a democracy and how we can get it back through a monarchy, oh yea there's an app for that! Ellani ️Autonomous Movement.
1:28PM PST/4:28PM EST - Juan Carlos Escobedo -- Escobedo is presenting an immersive installation that uses sci-fi symbolism to question the historic practices of resource distribution based on class and race.
1:45PM PST/4:45 EST - Tanika I. Williams -- A reimagining of a mother's mundane morning routine as she prepares to migrate to America and leave her family behind.
2:02PM PST/5:02PM EST - Han Qin -- A real-time discussion about current work in the studio. Raising questions about the challenges the world is facing today, creative responses form a crucial component of immigration, nature and hope for the future. It includes work specifically created during quarantine, such as digital media and text pieces, as well as drawing and cyanotype.
2:20PM PST/5:20PM EST - Kiana Honarmand -- Kiana will be sharing about her video Aab آب- the first from an ongoing series, which is inspired by her experience during the pandemic and her status as an immigrant.
2:38PM PST/5:38 EST - Fernando Vieira -- Unlabeled is a documented performance that explores the boundaries of masculinity and feminity within one person, challenging the established relationship between sex and gender.
Questions: Email i.outreach@nyfa.org
Artists Bios:
Hi my name is Adi
shetu Oyibo and I'm a natural born real Black Muslim Woman Artist, Scientist and Founder who is Female, Gay, Queer and I identify as a White Man. From the age of five I knew I was an artist but in that moment I rejected it and so began the slow and steady deterioration of self and I became other, as in everybody else other than myself in order to make sense of my existence, so I became The Con. This sent me on a journey of self, self acceptance and autonomy. Then I had a break through more like divine intervention and everything just made sense. Everything that I had prayed was answered like WorldPeace, Preservation of Life, Financial Freedom for all, Eradicating Slavery of every form, Rebooting our Economy, Environment and delicate Ecosystems all on an app I call Ellani☔️ but none of it makes sense if I don't explain autonomous movement in order to use an autonomous system because we have been stuck in a democratic system for what seems like forever! I pray that me telling the story of humanity helps humanity because listening and reading to all of yours did.
Juan
 C. Escobedo (B.1985 El Paso,TX) uses childhood memories, fashion, and class/ race politics as the major catalysts for his artwork. The work explores his identity as a bordertown, brown person, from a lower-class background in a predominantly "white" structured world with residual class and race shame.
His work consists of installations with objects primarily composed of cardboard, a "low brow" material which is usually charged with negative perceptions. His commitment to cardboard is a result of a kinship he has with the physical characteristics of the material. The installations he creates re-enact situations charged with socioeconomic and racial prejudices. This is done to confront the audience with preconceived notions of race and class through humor, symbolism, and material choice. The ultimate goal is for the audience to become aware and question the origin of their own prejudices.
Tanika I. Williams is an African-Jamaican writer, video and performance artist. She investigates black women's use of movement, mothering and medicine to produce and pass on their ancestral wisdoms of ecology, spirituality and liberation.
While primarily focusing on digital art, Han Qin's work also extends to printmaking, video, installation and performance art. She earned her B.F.A. and M.F.A. in Printmaking from China Academy of Art (Hangzhou) and her M.F.A. in Digital Arts from Pratt Institute (New York) in 2017. Currently, she lives and works in New York and Hangzhou as an artist, and adjunct professor at Stony Brook University (New York) and China Academy of Art.
Kiana Honarmand is an artist born and raised in Iran. Her work addresses issues related to her cultural identity, violation of women's rights in Iran, censorship, surveillance, and the Western perception of the Middle East. Derived from her interest in different materials and processes, Kiana's interdisciplinary practice features the use of digital fabrication tools as well as traditional methods of craft. In 2012, Kiana moved to the United States to pursue and complete her Master of Fine Arts degree. She currently lives and works in the Bay Area. Her work has been exhibited in solo and group exhibitions throughout the United States and Internationally.
Fernando Vieira is a New York-based writer, director, and performer. Most of his works document the effect of misogyny and heteronormativity on the lives of women and queer Latinx individuals. He also writes in the suspense genre. Notable works include writing and directing the stage solo play 'Me voy porque puedo' and directing the Jean Genet classic drama 'The maids' and the Bronx comedy 'Los nutcrackers: a Christmas carajo' at BAAD! His latest play is called "Goodbye, Little George." Vieira has been part of artistic cohorts at institutions such as NYFA, Creative Capital, and Leslie-Lohman Museum. He holds a Bachelor of Arts in Latin American Studies.
Images: Courtesy of the Artists
1st row (from left to right): Adishetu Oyibo, Juan C. Escobedo, and Tanika I. Williams (photo credit: Rog Walker)
2nd row (from left to right): Han Qin, Kiana Honarmand, and Fernando Vieira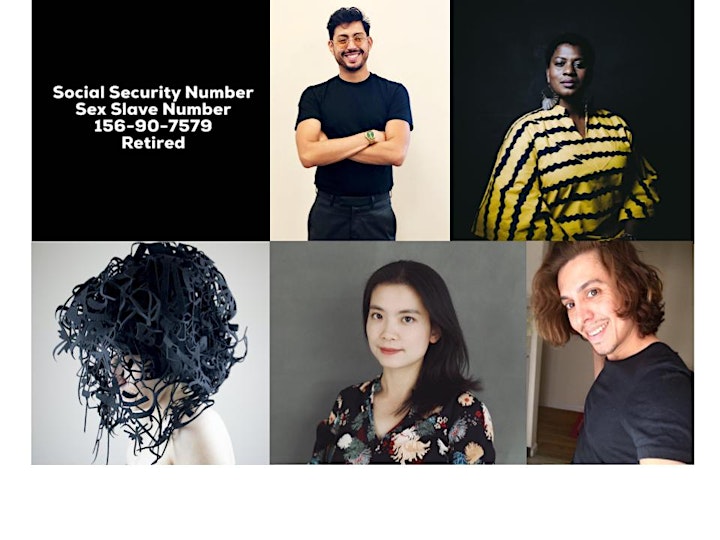 Virtual Art Salon Producer Bios:
Rupy C. Tut is an Oakland based visual artist working with Indian miniature painting (an 18th century Indian art form) and calligraphy. Her work engages in strict practice of traditional materials and methodology associated with Indian painting while using a visual language that is centuries old but still relevant today. She dissects historical and contemporary narratives as a first generation Punjabi Sikh immigrant, exploring the meaning of identity and belonging in the context of labels within the art world and outside.
Jason Wyman is queerly complex. Today, that means loving fearlessly + living radically. Tomorrow, who knows? Their art thrives in relationships, in thoughts, in dreams, in feelings, in liminality. Wyman values the power of art to reflect, to question, to challenge, to liberate, to heal, and they are honored they've been able to create alongside + in service to Black artists + Indigenous artists + Youth artists + Queer artists + Trans artists + Femme artists + Immigrant artists + Disabled artists + Poor artists + Anti-racist artists.
Images:
Left: Rupy C. Tut -- Photo credit: Lara Kaur
Right: Jason Wyman -- Photo credit: Jason Wyman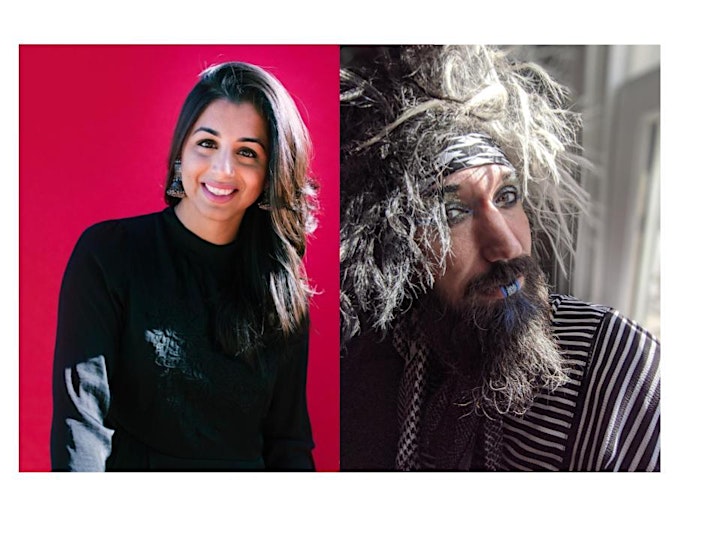 Organizational Partner Description:
New York Foundation for the Arts (NYFA)'s Immigrant Artist Mentoring Program (IAP) is the only known program of its kind in the United States, and has provided over 450 immigrants from 76 countries and regions with mentorship, community, and exposure for their work since it was founded in 2007. Artists in all disciplines have been offered the program in New York City Metro area and in 2017, NYFA received a 2-year grant from Ford Foundation to support the expansion of the program to Detroit, MI; Newark, NJ; Oakland, CA; and San Antonio, TX. Through the mentoring program, online directory, e-newsletter, the Immigrant Artist Program (IAP) is building and serving artists with diverse backgrounds who share the experience of immigration. We connect them with services and resources to foster their creative careers, gain support and exposure for their work, and integrate into the cultural world of the United States and beyond while upholding their distinct identities.