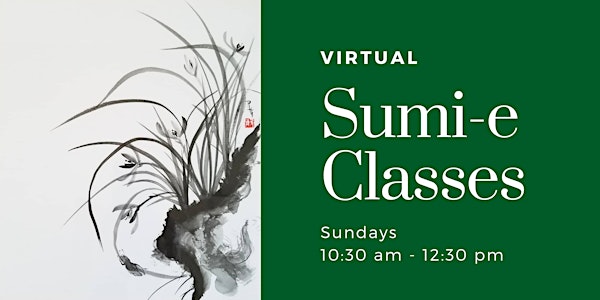 Virtual April Sumi-e Classes
Japanese ink painting, (sumi-e) is the art of painting using brush (fude), ink (sumi) and thin absorbent "rice-paper" (washi).
About this event
About this Event
The theme for this class will be: The Language of Trees: Beg/Int & Adv: learning the vocabulary of strokes through the language of trees. Int and Adv (prerequisite Trees class) will focus on "Tsuke Tate" technique: 10 stroke Tree, 3 stroke Tree, 1 stroke Tree, Dots; "Bokashi" shading technique and composing a painting using Paper from The Advanced Paper Roll.
All levels are welcome, plan to let go and have fun while learning a few new stroke techniques.
If you need course materials a full sumi-e kit is available here.
Beginning Tutorial Lessons are on YouTube. Please subscribe to Larkin Green Studio YouTube Channel. New lessons will be added on a regular basis
4 weeks for $120
Time: Sundays 10:30 AM - 12:30 PM
Dates: April 4, 11, 18, and 25
A Zoom link to join the class will be provided upon registering in the Eventbrite confirmation email.
*Registration closes one hour prior to the class time.