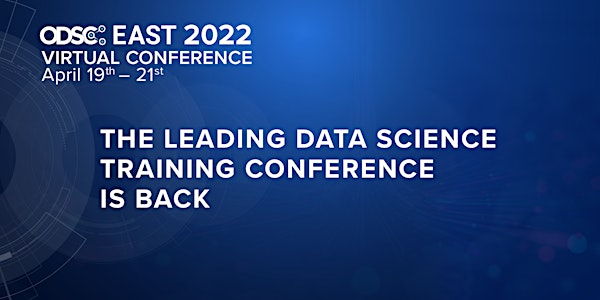 Virtual AI Expo & Demo Pass || ODSC East 2022 Conference
FREE ODSC Virtual Expo Hall Pass. Paid passes are also available. Use code Last100 to save 20% off until Friday, 15th of April
Refund Policy
Refunds up to 30 days before event
About this event
AI continues to play an increasingly essential role in business across a wide range of industries. Join us at the Virtual AI Expo & Demo Hall @ODSC East 2022, on April 19-20 to learn about the latest industry trends and innovations. This is a unique opportunity to access and interact with industry leaders from the organisations and startups shaping the future of AI. This is a unique opportunity to access and interact with industry leaders from wherever you are in the world!
With Virtual AI Expo Pass you'll get direct access to:
Main ODSC Conference Keynotes: Hear from world-renowned speakers including Padhraic Smyth, PhD, Chancellor's Professor, UC Irvine, Hilary Manson, Co-Founder, Hidden Door, Luis Vargas, PhD, Partner Technical Advisor, Microsoft, Dr. Hari Bhaskar, PhD, Director - Data Science & AI Platform, Oracle and Jean-Rene Gauthier, PhD, AI Platform Architect, Oracle
30+ Live Sessions: Watch expert-led demos and tutorials on how to accelerate the adoption of AI in your organisation
30+ Featured Partners: Meet with representatives from industry-leaders, such as SAS, Microsoft Azure, S&P Global, Z by HP, and many more.
Virtual Networking Opportunities: Take advantage of our in-person networking opportunities space to develop and nurture professional relationships
Confirmed Sessions include:
Feature Engineering on the Modern Data Stack
Data Boards: A Collaborative and Interactive Space for Data Science
Building Provenance and Reproducibility into ML Systems
MLOps: From 0-60 with Pachyderm
Building Trust: Data Governance for Artificial Intelligence
Noiseless Anomaly Detection with Streaming Graph A.I.
What to Do When Your Data Gets Big
Perform Detailed Spatial Analysis with SafeGraph and CARTO
Whether you are a CTO, CEO, data engineer, business analyst, software architect, data analytics, or product manager - The Virtual AI Expo & Demo Hall @ODSC East 2022 is the place to be.
Book your free pass today to guarantee your spot at the place the future of AI gathers!
Learn more about the AI Expo and Demo Hall here.
Want to join us in Boston? You can find our free In-Person AI Expo and Demo Hall Pass here.
FAQs
Is my registration/ticket transferrable? (Paid passes only)
Yes, up until 7 days prior to the event. Email info@odsc.com with your full name, email address, and the full name, email address, company name, and title of the person to whom you are transferring. Please be advised that transfers are not available within 7 days of the start of the event.
Where can I contact the organizer with any questions?
Email info@odsc.com
What is the Privacy Policy?
In summary, registrant contact information is NOT shared with third parties without your consent. Registrant information is primarily used to verify registration and notify you of similar events held by ODSC in the future. We may share your contact information with sponsors, but only with your consent upon registering.
What is the Refund Policy? (Paid passes only)
Cancellations within 30 days of the event are non-refundable. Cancellations 60 days prior to the will be granted minus an administration fee. Other terms apply as noted in our terms and conditions. Please email info@odsc.com, if you would like to transfer your ticket. Ticket transfers may be requested up to 7 days before the conference.
Please note:
Ticket prices and availability are subject to increase or decrease, at the discretion of ODSC, before and/or after you have made your purchase, and do not entitle the purchaser to a partial refund or credit.
Given the nature of live events, changes to specific sessions and/or presenters may be unavoidable and do not entitle the purchaser to a partial (or full) refund or credit.
ODSC reserves the right to expel and/or void the Ticket of any attendee or participant who violates the Code of Conduct.