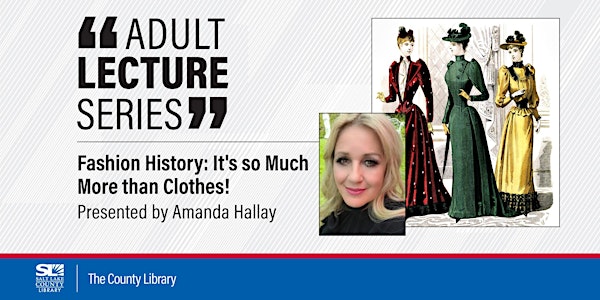 Virtual Adult Lecture: Fashion History: It's So Much More Than Clothes!
Fashion historian and costume consultant, Amanda Hallay will highlight a selection of fashion history's most famous moments.
About this event
Here is the link for the lecture if you missed registration:
Webinar topic:
Virtual Adult Lecture: Fashion History: It's More than Just Clothes!
Date and time:
Monday, Aug 22, 2022 7:00 pm | (UTC-06:00) Mountain Time (US & Canada)
Join link:
Webinar number:
2493 413 2852
Panelist password:
SLCOPanel (75267263 from phones and video systems)
Join by video system
Dial 24934132852@slcolibrary.webex.com
You can also dial 173.243.2.68 and enter your meeting number.
Join by phone
+1-408-418-9388 United States Toll
Access code: 249 341 32852
She will discuss why empire waistlines, corsets, flapper dresses, and Victorian top hats were the product of far more important factors than looking 'on trend'.
Formerly the fashion editor of Couture and Men Mode magazines, and the European trend forecaster for The Doneger Group, Amanda is now a professor and international lecturer who develops and presents workshops and micro-courses on fashion history, cultural history, and pop culture. She serves as a writer and consultant for The Museo de la Moda in Santiago, Chile, and is a historical consultant for the movie and gaming industries. A Grammy Award® nominee in the music educator category, Amanda is the creator and host of the popular YouTube channel The Ultimate Fashion History, and is the author of three books and numerous articles relating to fashion and culture, both past and present.
Although Amanda Hallay considers herself to be the Indiana Jones of fashion history, she is probably more like a spinster sleuth in an Agatha Christie novel, diligently piecing together the cultural clues that explain why fashion happens the way that it does.
https://amandahallay.com/
You must register for this event to receive the link to the WebEx virtual lecture.