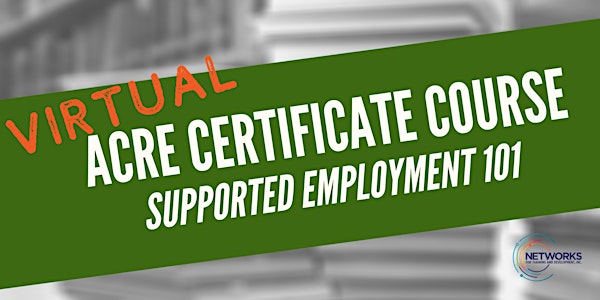 Virtual ACRE Certificate Course: SE 101 (September - November 2021) [EMP]
Refund policy
Refunds up to 7 days before event
About this event
Virtual ACRE Certificate Course:
Supported Employment 101
-----
(September - November 2021)
NOTE: This Course will be occuring fully online via ZOOM.
-----
Description:
The work of an Employment Support Professional is so much more than "one job." Many skills are necessary in order to do well and be successful. Job coaches need to be competent in all phases of the employment process, from the assessment or discovery phase all the way through to the fading and follow along phase. Each requires a variety of expertise and knowledge with a big dose of people skills being of utmost importance as well.
The most successful "employment professionals" connect well with people with disabilities, can assess an individual's interests, desires and skills, seek out the best possible job match, support the individual on the job and establish natural supports in such a way that the person can be successful on the job independently or with limited supports. These are only the primary roles of an employment professional. A variety of other "duties as assigned" are typically required in order for a person with a disability to become successfully employed. A great job coach has the ability to do it all.
Today, we recognize that professionals outside of the Employment Support Professional role are now taking ACRE-endorsed certificate courses. It is our goal to provide all professionals with the basic knowledge and skills, tools and resources that are needed to understand employment supports and to be able to provide a variety of supports, regardless of role.
Networks for Training and Development, Inc. has offered Supported Employment 101 (SE 101) in many formats, for over 25 years. Given the increasing demands to do more with less, it has been difficult for employment professionals, who are so critical to success for people on the job, to attend training. Given the ongoing challenges in 2020, we are now offering our 40 hour ACRE-endorsed curriculum online.
Completion of homework and fieldwork (which may be completed online or in the community, depending on safety and restrictions, (some of which may be billable to specific individuals depending on funding), will be expected of each participant between sessions. Small group mentoring between sessions is also an important element of the course.
The goal of this course is to enable job coaches and other employment professionals with less than one year experience, the necessary tools and strategies they need to be successful in their role, doing this through a hands- on fieldwork, homework and mentoring approach.
FOR PENNSYLVANIA REGISTRANTS: For those who have been providing employment supports for a longer period of time, this course can also be seen as a refresher and also meets the mandatory Pennsylvania waiver certificate requirement (referencing the July 2017 waiver requirements of community based staff acquiring either the CESP certification, or the ACRE supported employment certificate). This course also meets the needs of Program Managers and Program Specialists who must meet the Pennsylvania State requirements. It may meet other state requirements, outside of Pennsylvania, as well.
Audience: The Course is for new employment professionals who have been on the job under one year, or can serve as a comprehensive refresher for others who have a responsibility of finding and supporting employment for individuals with disabilities. It also meets the staff requirements for Employment services in the Pennsylvania ODP Waivers.
Time:
All sessions are 1:00 p.m. – 3:00 p.m. EST
September - December 2021 Session Dates (16 total) with attendance to all required:
September 20, 23, 27, 30
October 4, 7, 11,14, 18, 21, 25, 28
November 1, 4, 8, 11
-----
For more information, registration/application process, or to arrange specific accommodations please contact Jessica Stover at jessicas@networksfortraining.org or by phone at 1-610-482-4934 / 570-495-3537

CANCELLATION / REFUND POLICY (effective 8/27/18):
Cancellations made in writing (email) within 7 business days of the scheduled training will receive a full refund of the event cost.
To cancel, please contact the designated contact person for the specific event.
Cancellations made after this window of time are not eligible for a refund, however you can send another person in your place.
Please contact with general questions at 1-610-482-4935 or 1-866-683-3651.
Networks reserves the right to cancel a training session / series. In the unlikely event that your training course is cancelled after you have received your registration confirmation, we will make every effort to reschedule the training session / series and will be in touch with you within 30 days of the cancellation to offer an alternative date to attend. If you are not able to attend the rescheduled date, a full refund will be provided of the event cost.