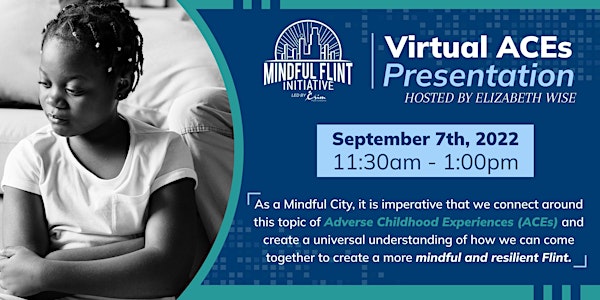 Virtual ACEs Presentation
Please join us for a virtual presentation focused on Adverse Childhood Experiences (ACES) and Resiliency. (For Michigan Residents Only)
About this event
The Crim Fitness Foundation is proud to help launch Flint as one of three cities in the nation invited to participate in the Mindful Cities Initiative, a project with The Foundation for a Mindful Society. As a Mindful City, it is imperative that we connect around this topic of Adverse Childhood Experiences (ACEs) and create a universal understanding of how we can come together to create a more mindful and resilient Flint.
The Crim Fitness Foundation aims to be a catalyst for authentic change – we do this through our community and educational work around physical activity, nutrition, active communities, and mindfulness. We proudly collaborate with many organizations in Flint, including the Flint RECAST Initiative and the Truth, Racial Healing and Transformation efforts, to help make effective change. Please join us at the table as we, along with others in the community, bring the topic of ACES into mindful awareness. As the next step on our journey to support a more Mindful and Resilient Flint, the Crim will be hosting virtual community gatherings for those currently supporting or interested in learning more. The virtual gathering will be hosted on zoom and led by ACE Master Trainer and Crim Mindfulness Resiliency Lead, Elizabeth Wise. The presentation will cover the science behind toxic stress, the ACES study, resiliency, and some practical steps everyone can take to support healthy individual and community resiliency. There will be an opportunity to view the documentary Broken Places at a later date.
"I attended the ACEs presentation and have found it incredibly helpful in my work as a Community School Director. I have incorporated ACEs into Community Education and use them daily. The ACEs framework is an accessible tool to explain childhood trauma, toxic stress, trauma-informed approaches, and even the effects of the water crisis to school staff and community members."
-Kyle Peppin, former Community School Director, Pierce Elementary.
Please email mindfulness@crim.org if you have any questions.
You will get the Zoom information upon registering. If you would like to support the Healthy, Mindful Flint Initiative, please click here to make a donation https://crim.org/support-mindfulness/