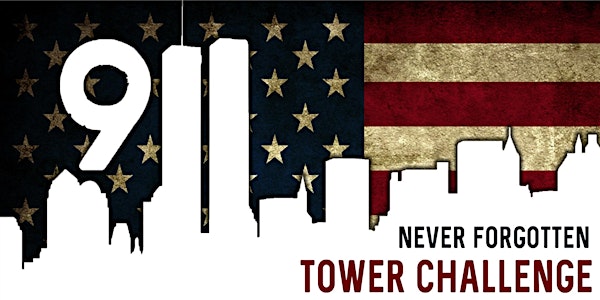 Virtual 911 Tower Challenge 2022
Climb 2071 steps representing the 110 floors of the Twin Towers on 9/11/2022
Refund Policy
Refunds up to 30 days before event
About this event
Remembering Those who Made the Ultimate Sacrifice
In honor of those who lost their lives on 9/11/2001, and in continued honor of our first responders and military who protect us from foreign and domestic threats, we gather to pay our respects at the annual 911 Tower Challenge.
The World Trade Center's Twin Towers each consisted of 110 floors and 2071 steps, and each year thousands of people across the world walk, climb and run the stairs to remember, no matter where they happen to be.
Together we vow to Never Forget.
Welcome to the Virtual 911 Tower Challenge Event!
What is a Virtual Registration?
When you register to attend virtually, you will receive all of the t-shirt, swag bags, coins and badges as those who attend in-person. Virtual attendees do not complete the challenge at the venue but instead find a location (gym stair-stepper, running/walking, high school stadium steps, etc.) to complete the challenge on their own.
Where is the virtual event held?
The great part about the virtual event is that it can be held anywhere you are in the world! Some of our past attendees have completed the 2071 steps wherever they can find stairs, such as: a gym on a stair stepper, a local high school stadium, place of business with flights of stairs, etc.,
If you'd prefer to run or walk the challenge, the walk is approximately 1.25 miles (2071 stairs) and runners can choose to challenge themselves to a 5k (or more!)
What we really hope that you do is that you remember the physical effort and sacrifice of our first responders on 9/11/2001, and connect with them in a similar physical fashion.
What time does the event start?
You can begin anytime that works for your schedule, although we will plan on streaming opening ceremonies at 0800 MST
When do I need to register by?
Due to COVID-19, all of our timelines have shifted earlier, so this year, early registration ends on July 4th. Having an early registration allows us to guarantee t-shirt sizes and ensure they arrive in time for us to mail them to you prior to the event.
After early registration has ended, the entry fee will rise. Please be aware that t-shirt sizes might not be available as it gets closer to registration close.
When will I get my t-shirt?
If you've chosen to pick up your packet in Tucson, Flagstaff or Phoenix, information on packet pickup will be available closer to the event. Check our website for updated information.
If you've chosen to have your packet mailed to you: t-shirts will be mailed out on Friday, September 2nd.
IMPORTANT: If you miss registering by September 1st, you will not receive your t-shirt on time for 9/11/2022. However we will continue to allow late registrations as long as supplies last.
All participants will receive a swag bag with a commemorative badge and t-shirt, plus a coin and protective mask.
I'm military, police, public safety, or other first responder. Do I get a discount?
Thank you SO much for your service! You are the reason why we hold this event. We don't have a general discount because the majority of attendees are first responders of some type - and the proceeds are fed directly back into your community via the beneficiaries.
What we do instead is give a discount to all ROTC Cadets! If you fall into this category, please get with your leadership for your code. If they don't have the code, please have them email us directly.