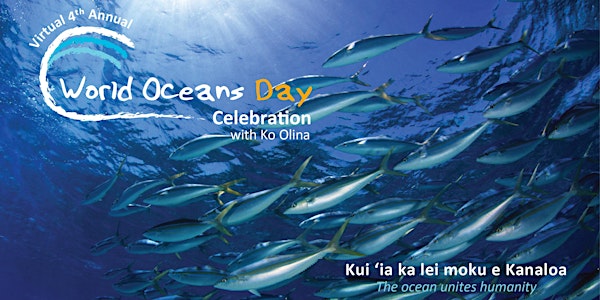 Virtual 4th Annual World Oceans Day Celebration with Ko Olina
Description
For the fourth year in a row, Ko Olina Resort in partnership with NOAA and other community partners will host a World Oceans Day Celebration. The event will be held virtually on Saturday, June 13th starting at 3:00 p.m. World Oceans Day is a global day of ocean celebration and collaboration for a better future. The virtual celebration will feature storytelling with special guests, musical performances, and education and sustainability activities with a strong career focus.
The Hawaiian ʻōlelo noʻeau (Hawaiian Proverb) "Kui 'ia ka lei moku e Kanaloa" translates literally to "The islands are strung together as lei by Kanaloa, god of the sea". During these extraordinary times, the ocean has been a source of comfort, a place to recreate and most importantly provides sustenance for those in need. These similarities and connections we share across the globe serves as an important reminder that now, more than ever is the time to stand together and unite our efforts to protect our common ocean legacy for ourselves and for future generations.
Please join us for this 2-hour special event. The event can be accessed at: www.facebook.com/OiwiTV
Program Highlights:
Hosted by: Kimi Werner, U.S. National Spearfishing Champion, culinary chef and award-winning artist

Live Entertainment from Hawai`i's top entertainers including: Kimie Miner, Paula Fuga, Kawika Kahiapo, Nathan Aweau and Robi Kahakalau

NOAA Live! Pacific Islands "Ask a Scientist" presentation with Dr. Cam Allen

Cooking demonstration with Four Seasons Resort Oahu's Chef Martin Knabert

Career Profile with Aulani Disney Resort Animal Programs manager Marj Awai

We Fish! - Hawai`i film premiere with NOAA

Celebrate World Oceans Day through Art with a drawing lesson with Patrick Ching. Download a free coloring sheet from his Papahānaumokuākea song and coloring book and color while you watch

Talk Story with Kimi Werner, Kokua Hawai`i Foundation Jaclyn Johnson and World Champion Bodysurfer Mark Cunniingham.

Meet Aspiring Artist Aria Luna

Watch Smog of the Sea Film Screening

This World Oceans Day Celebration is generously supported by Ko Olina Resort Operators Association, Inc., the National Oceanic and Atmospheric Administration (NOAA), the City and County of Honolulu Storm Water Quality Branch, Aulani, A Disney Resort and Spa and Four Seasons Resort O`ahu.