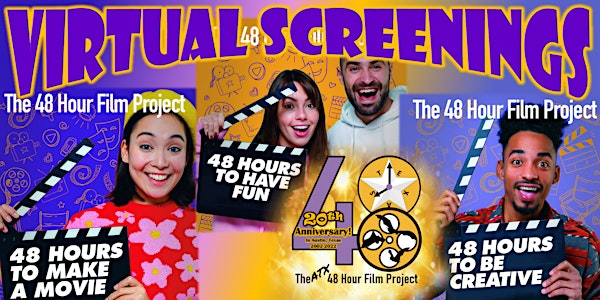 VIRTUAL - 20th Anniversary Austin 48 Hour Film Project Screenings
Refund policy
Contact the organizer to request a refund.
Eventbrite's fee is nonrefundable.
The Austin 48 Hour Film Project 20th Anniversary Premiere Screenings - Group A
About this event
The 20th Anniversary Premiere Screenings for the Austin 48 Hour Film Project took place at AFS Cinema. For those who couldn't be there, we offer a VIRTUAL viewing option.
How to ensure the coolest weekend EVER, even during a scorching hot Texas Summertime? Make a movie in just 48 hours! After two years of virtual screens, the Austin 48 Hour Film Project is BACK in theaters for our 20th Anniversary!
Dozens of miracle workers made a short film outta nuthin' in one sweltering weekend. Given a pair of Genres, a Prop, a Character, a Line of Dialog and only two days to come up with a piece of entertainment (that is actually entertaining), you just can't imagine the ATOMIC power of such hyper-creativity! Don't believe me? Here's the proof!
Maybe one of your friends participated... or a relative... or a co-worker... or that cutie you want to impress... Maybe you just heard about it on the radio or Facebook or Twitter and wondered "OMGWTF?" No matter... come check it out. You won't believe our teams wrote, filmed, edited and scored these vignettes in only 48 hours!
Tickets to view each group are $10 or $15 to access all three -- Eventbrite fees absorbed (no surprises for you).
Featured Teams/Films*:
Group A
"A Heart Felt Memory" a Romance/Comedy from Team An Unlikely Party, led by Sam Kokajko
"Rebellion Records" a Vacation Or Holiday Film from Team Armadillo Studios, led by Melanie Ortiz
"Mythomania" a Comedy from Team Buda Treehouse Studios, led by Trevor Zajac
"Silent But Deadly" a Silent Film/Revenge from Team CAKE Films, led by Athan Bernal
"Glenn's New Job" a Dark Comedy from Team Gary Peeton, led by Will Adams-Keane
"End of Session" a Musical from Team Ghostwright Media, led by Matthew Judd
"Fade In" a Thriller Suspense/Tearjerker from Team O & A Creative, led by Adrick Tolliver
"Moving Day" a Drama from Team Reject Modernity, Embrace Magicians, led by Keith Burton
"APEX" a Crime Gangster from Team Ten House Productions, led by Kristen Huguley
"Espresso Feelings" a Coming Of Age from Team The Dear Fear Folk, led by Jack Smith
"RIVERS' 5" a Heist/Film De Femme from Team Tornado Boyz Produxions, led by Adam Querbach
Group B
"The Appcident" a Romance from Team Black Moon Castles, led by Betsy Black
"Redux" a Time Travel Movie from Team Dark Boiler Productions, led by Zachariah Williams
"Sunsetting" a Horror from Team Dead Dove Productions, led by Travis Corley
"One Dad's Wrench, Another Brother's Treasure" a Coming Of Age from Team Dos Pollos Productions, led by Victor `Dominguez
"Red Warbler" a Thriller Suspense from Team Earth Wizard Films, led by Ramon Castelo
"Break A Few Eggs" a Action Adventure from Team Esthry Jam, led by Steve Webb
"Component" a Sci Fi from Team Fried Steak Films, led by Omar Marroquin
"A Convenient Truth" a Dark Comedy from Team Jonny Studios, led by Stephen Teeter
"The Wrench Who Fixed Christmas" a Vacation Or Holiday Film from Team Maganific Productions, led by Daniel Magallanes
"CHECK" a Mystery from Team Red Canvas, led by Trent Baker
"The Wrench" a Superhero from Team Yellow Dinosaur Productions, led by Daniel Grzywacz
Group C
"The Road to Amore" a Road Movie from Team 3 Generations , led by Marla Makley
"The Hill" a Action Adventure/Drama from Team DURBAN, led by Justin Durban
"NEVER AGAIN" a Revenge/Sci Fi from Team FORESTGIRAFFE Productions, led by Jordan Gracey
"What She Does" a Superhero from Team Laconic Mojo, led by Curt Hendley
"MASCOT" a Heist from Team NYOS Productions, led by Lori Ramirez
"Binge Break" a Film De Femme from Team Phoenale, led by Phoenix Martin
"HOWDY GLAMPER" a Dark Comedy from Team Phooey Films, led by Rowan Wesolick
"Time Crunch" a Time Travel Movie/Thriller Suspense from Team El Guapo, led by Frank Salinas
"Lucky Man" a Musical from Team VOXAVILA | Films, led by David Avila
*By Team Name, not by Screening Order
If you purchased a ticket for the In-Person screenings at AFS Cinema, you can use that ticket to gain access to the Group you attended for free! Or, if you'd like to see all the films, you can purchase an All Access Pass for only $5. Here's how:
Look at the ticket in your email. There should be a QR code with a 23 digit number underneath (see below).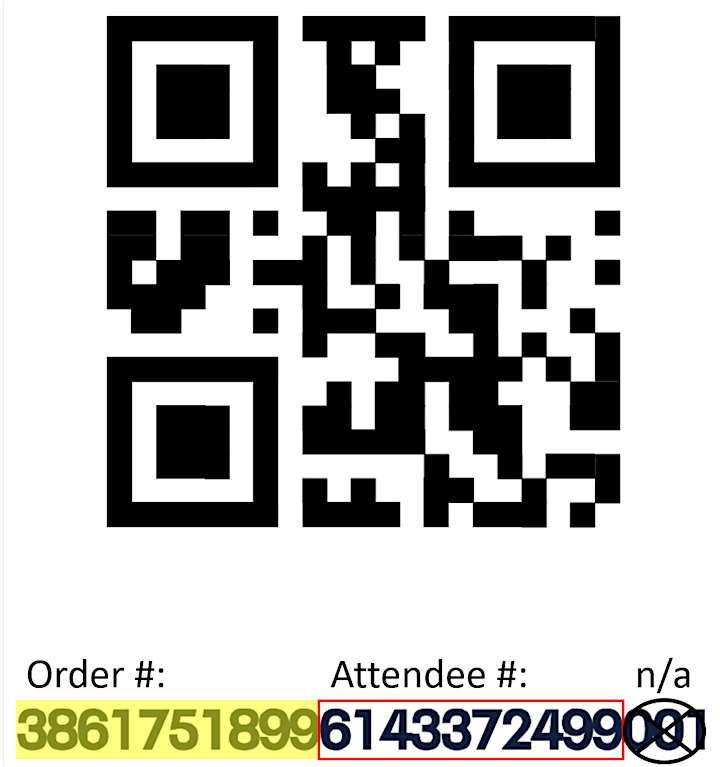 The first 10 digits are your Order Number. The next 10 are your Attendee Number -- these all start with a "6" and end with a "9". Disregard those last three.
When you purchase a ticket to the Virtual Screening, you'll see this pop-up window: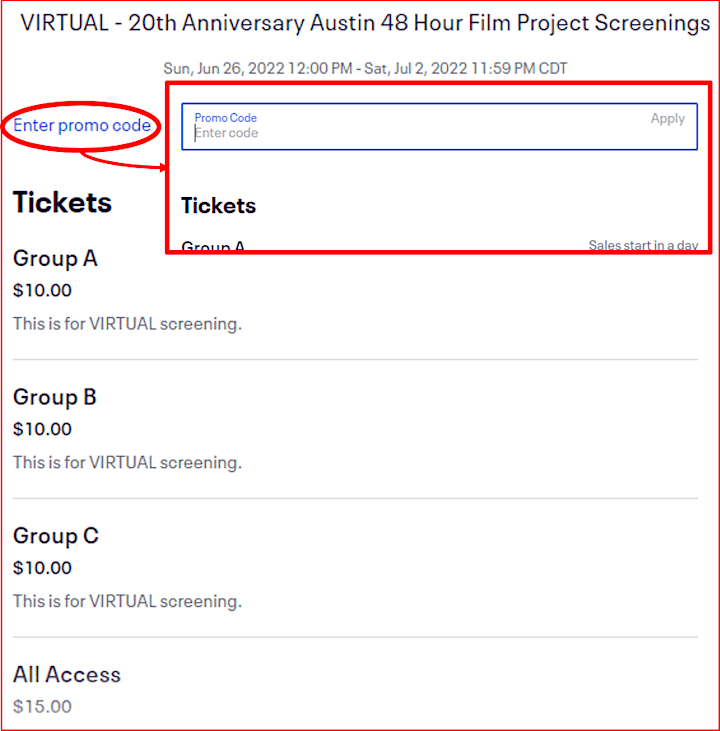 Click on "Enter promo code," then type in your ATTENDEE NUMBER (remember -- it starts with a "6" and ends with a "9"). When you click "Apply," it SHOULD take $10 off either the Group you attended, OR the All Access ticket.