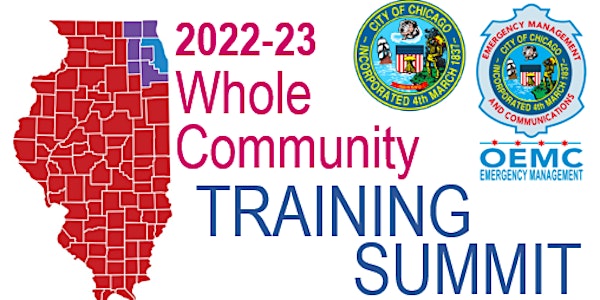 (Virtual) 2022-23 Whole Community Training Summit
(Virtual) 2022-23 Whole Community Training Summit
Date and time
Wednesday, March 22 · 7am - 1pm PDT
About this event
Please join us virtually on March 22, 2023, for the Whole Community Training Summit (WCTS) hosted by the City of Chicago - Office of Emergency Management and Communications (OEMC). This event is the first of a multi-year plan to provide whole community engagement and training for 2022 (Focus: Preparedness), 2023 (Focus: Response), and 2024 (Focus: Recovery).
The 2022-23 agenda is listed below (Conference Packet Download)
(Please note, hands-on training and certain sessions are available in-person only)
9:00 am - Welcome!
Daiko Abe, CFM, Director of Operations, Integrated Solutions Consulting
9:05 am - Opening remarks
Richard Guidice, Executive Director, Chicago Office of Emergency Management and Communications
9:15 am - Multi-Sector Panel discussion: Staffing Challenges in the New Normal – How to Prepare for the Next Crisis
Daniel O'Connor, Deputy Chief, Chicago Police Department
Dr. George T. Chiampas, Executive Director, Disaster Management and Community Emergency Preparedness Institute
Christopher Shields, EMT-P, Assistant Commissioner, Chicago Department of Public Health
David Bunge, MScTRM, Emergency Preparedness Manager, ComEd
Lisa Stender, VP of Manufacturing, Feed my Starving Children
Facilitator: Steve Mier, President, Mier Consulting Group, Inc
11:00 am - Federal Update on Active Shooter Emergencies
Puneet Khan, Senior Advisor, National Security Administration
11:45 am - Lunch Panel Discussion: From Preparedness Planning to Understanding Evolving Threats -- the 2022 Ebola Virus Disease (EVD) Outbreak Experience
Andrea Dos Santos, Deputy Director, Illinois Department of Public Health
Molly Gabaldo, Hospital Preparedness Program Project Manager, Chicago Department of Public Health
Arien Herrmann, Southern Illinois Hospital EMS and Preparedness, Regional Hospital Coordinating Manager, Southern Illinois Hospital
Facilitator: Theresa Tolar, Office of Preparedness and Response, Hospital Preparedness Coordinator, Illinois Department of Public Health
1:00 pm - Vulnerable Populations Breakout Sessions:
Changing Needs of People with Disabilities and Other Individuals with Access and Functional Needs
Mary Casey-Lockyer, MHS, Disaster Health Services Lead, American Red Cross
Kira Meskin Schiff, OTD, OTR/L, CAPS, ECHM, ADAC, Vice Chairperson, Illinois Emergency Management Agency's Access and Functional Needs Advisory Committee
Human Trafficking and Disasters
Dr. Joy Lo, Program Manager, Reclaim13
2:15 pm - Psychological Preparedness Breakout Sessions:
Responder Trauma
Dr. Kammie Juzwin, IMERT, Bartlett Police Department
Psychological Preparedness for Disasters
Phil Andrew, JD, Principal, PAX Group
Jamie Aten, PhD, Co-Founder, Spiritual First Aid
Kent Annan, MDiv, Co-Founder, Spiritual First Aid
In order to better understand your organization's needs and the changing needs of the various sectors, we ask that you also please complete this 1-minute survey, via this link: https://isconsulting.jotform.com/223416458354054
This survey will help the planners of the Whole Community Training Summit for future conferences. Thank you!