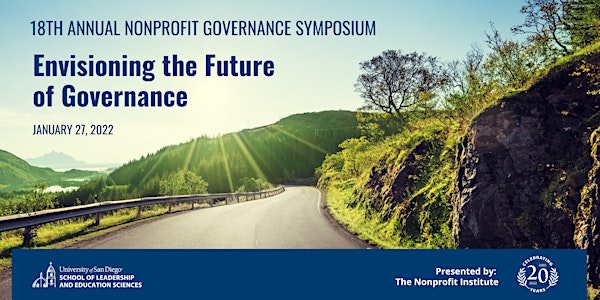 VIRTUAL 18th Annual Nonprofit Governance Symposium
Refund policy
Contact the organizer to request a refund.
Eventbrite's fee is nonrefundable.
Join us for the virtual 18th Annual Nonprofit Governance Symposium: Envisioning the Future of Governance on Thursday, January 27th 2022!
About this event
Envisioning the Future of Governance
Nonprofit Leaders spend a great deal of time envisioning events and scenarios that might happen in the future. The pandemic and its resulting effects have made this process much more difficult. Join us as we collectively envision the future of governance and examine more directly how governance can be the catalyst for building strong organizations and even stronger communities.
This year we will be honoring three organizations who have shared highly informative and compelling stories of good governance for The Nonprofit Institute's Kaleidoscope Award for Good Governance. The Kaleidoscope Award for Good Governance recognizes, celebrates, promotes and inspires excellence in nonprofit governance in the San Diego region.
Tickets and Pricing
General Admission Tickets (On Sale from Dec. 22nd, 12pm - Jan. 27th, 8 am)
________________________________________________________________________________________________
Agenda Outline
9:00am - 9:15am
| Presentation by Voices of Our City Choir
| Welcome
Assemblymember Chris Ward
Secretary of State Dr. Shirley Weber
| Opening Remarks
Dr. Emily Young, Executive Director, The Nonprofit Institute
| Introduction to Keynote
Dr. Lyn Corbett, Director of Governance and Community Programs, The Nonprofit Institute
9:15am - 10:05am | A Conversation with Anne Wallestad and Q&A
Anne Wallestad, President and CEO, BoardSource
Four Principles of Purpose-Driven Board Leadership
In the face of increasingly pressing systemic inequities, nonprofit boards must change the traditional ways they have worked and instead prioritize an organization's purpose, show respect for the ecosystem in which they operate, commit to equity, and recognize that power must be authorized by the people they're aiming to help.
10:05am - 10:15am | 10min Break
10:15am - 11:15am | Breakout session 1
Room A: 5 Shifts How Funders Can Become More Effective Community Partners (Recommended for Funders / Philanthropy)
Alexa Cortés Culwell, Co-Founder and CEO of Open Impact
Irene Wong, Director of Local Grantmaking for The David and Lucile Packard Foundation
John Mathew Sobrato, Trustee of Sobrato Philanthropies
In order to support long term changes in our region and communities, philanthropy needs to embrace and deepen new practices. In this breakout, presenter/moderator Alexa Cortés Culwell will be joined by guest panelists John Mathew Sobrato, trustee of Sobrato Philanthropies and Irene Wong, Director of Local Grantmaking for The David and Lucile Packard Foundation. Alexa will provide an overview of new research led by her advisory firm Open Impact, titled: Get it Right: 5 Shifts Philanthropy Must Make Toward An Equitable Region. The guest panelists will share lessons and practical examples for how funders can be effective community partners by embracing and deepening practices that center community needs, address root causes, leverage capital, and advance collective action. They will also share about shifts they have needed to make, including at a governance level, to drive deeper impact in their work.
Room B: Engage Your Covid-Weary Board in Strategic Leadership
Susan Howlett, ​​Consultant and Author
The three main jobs of boards -- governance, ambassadorship and fundraising -- have been disrupted the last two years across the sector. In this interactive conversation, we'll explore how to help your leaders embrace their roles with clarity and gusto. You'll leave with practical, no-cost steps they can take immediately to fulfill their roles with joy and ease.
Room C: How to Keep Your Board Engaged in Resource Development all Year
Sabrina Walker Hernandez, MPA, President and CEO, Supporting World Hope
Few things are more critical to your nonprofit's health, success, and sustainability than an effective board of directors. In this interactive session, participants will learn to support the board in resource development, tap into their fundraising strengths, and transform them into a fundraising powerhouse.
Room D: Beyond the Board Statement: Moving from Words to Action
Vernetta Walker, J.D., President & CEO, Vernetta Walker & Associates Consulting, Inc.
The racial justice movement sparked by the killing of George Floyd created a new sense of urgency across the nonprofit sector to address diversity, equity, and inclusion (DEI). Countless public statements issued by organizations articulated their "good intentions," but tangible changes often did not materialize. This session focuses on action steps to move from words to action, how to create an authorizing environment, and steps to make DEI a transformative experience for your nonprofit.
Room E: Let's Reset and Refresh Your Board With These 10 Steps
Cindi Phallen, President and CEO Create Possibility
It's been made more clear that ever during the pandemic that strong leadership matters and yet many nonprofits found their boards in a leadership deficit. You can use this 10-point checklist to assess your board now to ensure you're best positioned to advance your goals. From selecting new board members (with an emphasis on a DEI lens,) to engaging them in specific activities, to holding them accountable, we'll walk through this assessment tool and set you up for success in building the board you need.
11:15am - 11:45am | Kaleidoscope Award Ceremony
11:45am - 12:45pm | Breakout session 2
Room A: The Afghan Evacuee Crisis: Dealing with Immediacy and Uncertainty
Kevin Ouellette (Moderator), Graduate Research Assistant, The Nonprofit Institute
Mumtaz Momand, Deputy Director Afghan Community Cultural Center
Etleva Bejko, Director of Refugee & Immigration Services, Jewish Family Service of San Diego
Donna Duvin, Executive Director International Rescue Committee IRC
Join us for The Afghan Evacuee Crisis: Dealing with Immediacy and Uncertainty. We will be hosting an in-depth panel discussion, with community leaders from 3 local nonprofits. This discussion will focus on how their organization's shifted gears and adapted to support an influx of Afghan evacuees who were displaced as a result of the war in Afghanistan.
Room B: Surviving the Great Resignation: Talent Acquisition and Retention Strategies for Nonprofit Organizations
Trevor Blair, CEO, Blair Search Partners
Every organization of every size has been directly affected by "The Great Resignation", or as we prefer to call it "The Great Reshuffle". Staff at all levels and across all sectors are resigning and changing jobs like never before. An indirect effect of the pandemic, this phenomenon will continue rippling through the economy through Q1 and Q2, and possible even into Q3. In this highly tactical session, we'll stalk about specific actions your organization can take in order to not only prevent your organization from bleeding talent, but to even use "The Great Reshuffle" to your advantage.
Room C: How to Build a Strong Relationship Between Board and Fundraising Staff to Raise More Money, Develop a Solid Team, and Have Fun Together (and board members, you don't have to ask for money to accomplish this!)
Sally Dadmun Bixby, Philanthropy Studio, LLC
Moneé Gardner, Associate Director of Philanthropy, Individual Giving at The Old Globe Theatre
Lina Park, Executive Director of Korean American Community Foundation of San Francisco
Leticia Martínez, Director of Philanthropy, International Community Foundation
Marina Muñoz de Martínez, Director of Development and Partnerships, Race Forward
One of the most misunderstood and underutilized relationships in a nonprofit organization is how the board and fundraising staff work together. In this lively, frank and fun conversation, three accomplished fundraising professionals will share examples on how to work effectively with development staff. This conversation will be especially beneficial for board members, executive directors, and fundraisers. At the end of this conversation, you will have actionable ideas that will lead to a stronger culture of philanthropy and help increase fundraising. The panel features Lina Park, Executive Director of the Korean American Community Foundation of San Francisco; Monee Gardner, Associate Director of Philanthropy, Individual Giving with the Old Globe of San Diego, and Lety Martinez, Director of Philanthropy of the International Community Foundation. The conversation is moderated by Sally Dadmun Bixby with Philanthropy Studio. This is an interactive experience where participants are encouraged to ask questions and give feedback.
Room D: Leadership Manifesto: Intersection between who you want to be and where you are as a leader
Sonja Mustiful, Principal and Founder, Essence of Coaching
Leaders will need a new internal "GPS" system embedded with IQ to design the organizations of the future and the EQ to invite curiosity and embrace diverse perspectives to navigate a path forward.
Learn how leaders can activate their superpower EQ, self- awareness, trust, values, and intentions to inspire leaders of the future to rise to their potential.
Room E: Avoid Analysis Paralysis: The Do's and Don'ts of Using Data for Effective Nonprofit Board Service
Dr. Laura Deitrick, Associate Director, The Nonprofit Institute
Jolyn Parker, VP External Relations for San Diego Oasis
Over the past two years, nonprofit boards have been called upon to make rapid-fire decisions, pivot organizational strategy on a dime, and seize opportunities as they emerge. In the absence of a crystal ball, board members need timely and accurate data to inform such decisions and promote good governance. Access to the "right" financial, fundraising, program, and operations data are critical, however, agreeing on what data to ask for and how to interpret it can be problematic given the limited time and resources of volunteer boards. Participants in this workshop will be given an opportunity to (1) assess the quality of the data they are currently receiving, (2) consider the unique data needs of their organization, (3) review examples of useful dashboards and reports, and (4) plan for better data collection and analysis in the future.
12:45pm - 12:55pm | 10min Break
12:55pm -1:55pm | Breakout session 3
Room A: Changes Underway in Organized Philanthropy: What Boards Need to Know
Stephen Chin (Moderator), Chair of Nonprofit Institute Advisory Board and Manager Marketing and Communications at Sharp Health Plan
Chris Sichel, President and CEO, The Rancho Santa Fe Foundation
Kathy Patoff, Chief Operating Officer MUFG Union Bank Foundation
Laura F. Rodriguez, Program Officer, Oceans Builders Initiative
Marisa Aurora Quiroz, President and CEO, International Community Foundation
Amidst unprecedented challenges faced by nonprofits over the past few years, many funders have changed the way they approach their grantmaking. Recent survey findings from the Center for Effective Philanthropy indicate that many foundations have reassessed their practices to embrace greater flexibility and responsiveness, increase grant outlays, place greater trust in their grantees and the communities they serve, and focus on advancing racial equity. In this session, local and state foundation leaders will share how their foundations are shifting their practices - individually and collectively. More broadly, they will share what trends they foresee in the philanthropic community over the next few years.
Room B: Leading Consciously with Purpose Especially During a Pandemic
Neville Billimoria, SVP Membership/Marketing & Chief Advocacy Officer, Mission Fed
After more than 2 years of leading through the pandemic, purpose-driven leaders are looking for resources and tools to keep themselves and their teams resilient, positive, and mission-driven. Blending a "pracademic" combination of both western science and eastern wisdom traditions, this session will equip conscious leaders and their teams- remember leadership is a decision not a position- with the mindset, heart set and skill sets to navigate the challenging world ahead both professionally and personally.
Room C: Governing in Crisis: Organization Risk and Legal Compliance
Mary Tovella Dowling, Managing Attorney of Tovella Dowling, PC
Session Description: This session will provide practical guidance on local, state and federal annual regulatory compliance considerations applicable to all tax-exempt organizations to avoid any jeopardy to a nonprofit's tax exempt status. Experienced nonprofit attorney, Mary Dowling, will further address best legal practices for nonprofit directors and executives forced to govern in crisis during and after the pandemic. Participants will gain practical advice and strategy about policies, procedures and other corporate governance practices that should be implemented by nonprofit boards and executives to ensure a good governance and operational resilience.
Room D: 2022 Kaleidoscope Award Winners: Lessons Learned from Good Governance
Terry Bruggeman, Nonprofit Institute Advisory Board and CEO & Director, Avenzoar Pharmaceuticals Inc.
Micah Parzen, Past Kaleidoscope Award Winner and CEO, Museum of Us
Sarah Setiawan, Nonprofit Institute Advisory Board and Operations Manager, Learning Equality
If there was ever a year where nonprofit governance mattered, 2021 was it. While San Diegans relied upon our nonprofit community more than ever for critical services, many of these organizations have faced episodic stay-at-home orders, revenue losses, and staff furloughs or layoffs. Nonprofit boards were called upon to lean into their roles in helping to fundraise, develop new strategies for meeting community needs at a time of crisis, and think outside the box in ways to achieve a greater social good. In this session, you will hear from this year's Kaleidoscope Awardees, who will share their stories of how their boards exercised their leadership role during an extraordinarily challenging year.
Room E: Hybrid, Zoom or in the room: Engagement strategies for crucial meetings
Beth Branning, Principal, Branning Strategies
The best meetings for both board and staff are engaging and productive--whether virtual, hybrid, or in person. We have all adopted remote meetings as a necessary tool in changing times, but it can be a challenge to ensure you are getting the best from your board and staff in a virtual setting. In this session, we'll focus on remote meetings but also discuss proven methods to bring engagement, productivity, focus, and even enjoyment to both virtual and in-person connections.
1:55pm - 2:00pm | Closing
______________________________________________________________________________________
Thank You to Our Symposium Supporters and Sponsors
Providing our nonprofit sector with the latest trends and research is made possible with support from our incredible sponsors.
We couldn't do it without you!
Chair
Kid Spark Education
The Legler Benbough Foundation
MUFG Union Bank
Advocate
The Westreich Foundation
Steward
Bank of America
Califonia Trust and Bank
Media
The San Diego Union-Tribune
San Diego Business Journal
Voice of San Diego
Partner
Alliance Healthcare Foundation
CalNonprofits Insurance Services
Sharp Health Plan
Sempra Energy
Supporter
Alliant Educational Foundation
Catalyst of San Diego and Imperial Counties
Dowling & Yahnke Wealth Advisors
For Purpose Law Group
Tovella Dowling Nonprofit Lawyers
Friend
Rancho Santa Fe Foundation