Description
Virocom BroadCloud is a fully-managed end-to-end service that delivers Unified Communications and Collaboration services from BroadSoft's cloud infrastructure, leveraging its broad portfolio of feature packages, UC applications, and site configurations. Virocom are able to fine tune its BroadCloud service offering to meet UK business customer communication needs.
Virocom BroadCloud integrates with Microsoft Skype for Business. We save your IT staff time, money and effort by enabling Skype for Business voice calls to the PSTN without sacrificing the deep integration between Skype and Office applications.
Users familiar with the way things work in Skype for Business do not have to learn a new way of making and receiving calls with the Virocom BroadCloud. You can get all of Skype for Business' collaboration features and seamless calling to PSTN destinations without deploying on-premise Skype for Business Server.
Please register above to join us for breakfast and opportunity to understand more about the Virocom BroadCloud offering.
Agenda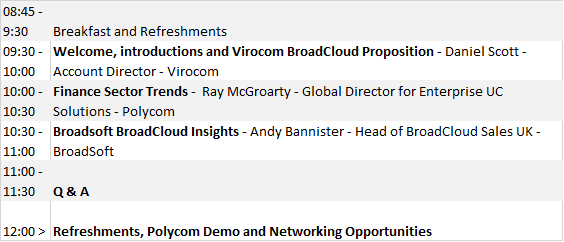 Virocom Events
(T) - 0845 678 8898
(E) - info@virocom.co.uk