YOUTH v GOV with Great Falls Group, Sierra Club Virginia Chapter, 350 Fairfax, Faith Alliance for Climate Solutions and Our Children's Trust
About this event
Christi Cooper's film, YOUTH v GOV, is the story of America's youth taking on the world's most powerful government. In 2015, armed with a wealth of evidence, twenty-one courageous young leaders filed a groundbreaking lawsuit against the U.S. government, Juliana v. United States, asserting that their federal government has willfully acted over six decades to create the climate crisis, endangering the young people's constitutional rights to life, liberty, and property. While their case continues to make its way through the legal system, you can learn more about their journey and how a win in their case will not only make history, but will change the future. To learn more about the film, please visit YOUTH v GOV film website.
REGISTRATION
This is a FREE event.
After you register, you will receive an email with instructions to access your personal link to watch the film.
SCHEDULE
ONLINE VIEWING PERIOD:
Monday, November 8th through Thursday, November 11th until 7pm (EDT).
FILM DISCUSSION:
On Thursday, November 11th at 7:30pm (EDT), join Our Children's Trust Senior Staff Attorney, Nate Bellinger, and some of the youth plaintiffs leading groundbreaking climate litigation in the United States to discuss the federal government's actions causing the climate crisis, how it impacts Virginia, and how you can join or support a new constitutional climate lawsuit against the Commonwealth of Virginia.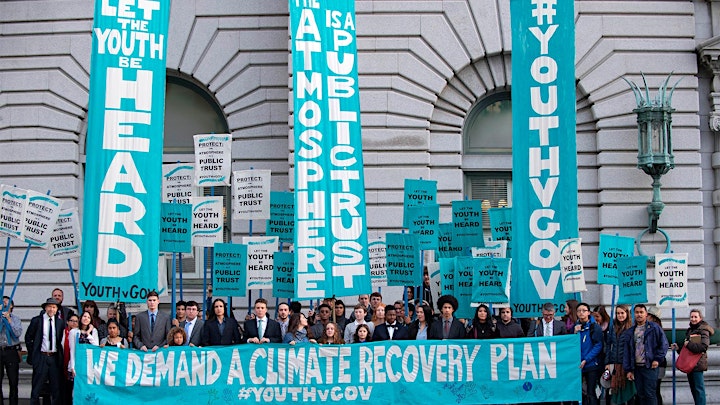 Organizer of Virginia Youth v. Gov Film Screening and Discussion
Our Children's Trust is a non-profit public interest law firm that provides strategic, campaign-based legal services to youth from diverse backgrounds to secure their legal rights to a safe climate. We support our youth clients and amplify their voices before the third branch of government in a highly strategic legal campaign that includes targeted media, education, and public engagement work to support the youths' legal actions.