Event Information
Location
See Description
Charlotte, NC 28202
United States
Description
Cavalier Countdown Tailgate:
Saturday, December 7th
4:00 p.m. - 7:00 p.m.
BB&T Ballpark
324 S Mint St
Charlotte, NC 28202
Join fellow alumni, parents, friends, and fans in Charlotte as the Virginia Cavaliers take on the Clemson Tigers in the ACC Football Championship on Saturday, December 7th. The University of Virginia will host a Cavalier Countdown Tailgate at BB&T Ballpark from 4:00 p.m. - 7:00 p.m. Enjoy a BBQ buffet (vegetarian option included), non-alcoholic beverages, unlimited beer and wine (cocktails available at the cash bar), music, and fan giveaways as we get ready to cheer on our Hoos! The game kicks-off at 7:30 p.m.
We hope you will join us to celebrate UVA and the Cavalier football team!
Adults 21+: $35 In Advance, $45 At the Door (based on capacity)
Children & Young Adults 4 - 20: $15 In Advance, $20 At the Door (based on capacity)
Free for children 3 and under
Please dress appropriately for the weather (forecast in the 40's); be aware that the tailgate is outside, under cover, with heaters. The Home Run Club is enclosed and heated.
We anticipate that this event will sell out, and tickets may not be available at the door. Register today to ensure your spot!
Game tickets in the VAF block are available here. There is a clear bag policy in effect at Bank of America Stadium. Parking options can be found here or on the map below.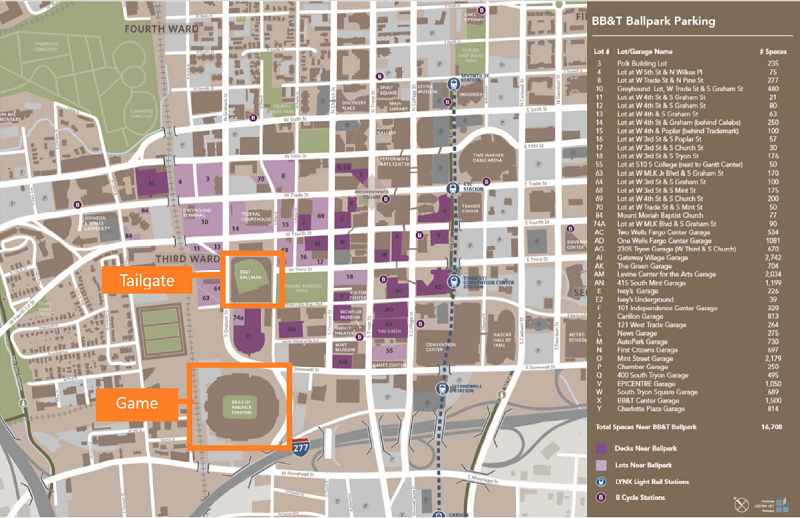 For more information, please contact Beverly Wakefield, Senior Associate Director, UVA Clubs, at beverlyw@virginia.edu.
---
UVA Men's Soccer Watch & Wahoo Meet-Up:
Friday, December 6th
7:00 p.m. - closing
UVA Men's Soccer: 7:00 p.m.
Blackfinn Ameripub Uptown - Upstairs
210 E Trade St, Suite120-B
Charlotte, NC 28202
Join us for a casual meet-up upstairs at Blackfinn Ameripub Uptown before the big game! We'll have the UVA Men's Soccer game on the TVs, beginning at 7:00 p.m. The space is reserved for us until closing, so feel free to join us anytime during the evening!
---
Museum Tour:
Saturday, December 7th
1:00 p.m. - 2:00 p.m.
$15 per person (includes museum admission and 1-hour, docent-led tour for this UVA Lifetime Learning sponsored program)
NASCAR Hall of Fame
400 East Martin Luther King, Jr Blvd
Charlotte, NC 28202
A 10-minute walk from the host hotel—Sheraton Charlotte Hotel
A 14-minute walk to BB&T Ballpark for Cavalier Countdown Tailgate
Parking is available in the museum's garage for a fee
Meet in the main lobby near Guest Services
Join UVA's Lifetime Learning for a docent-led tour to learn about NASCAR's history. From avid NASCAR fans to casual observers, there is something for everyone in the NASCAR Hall of Fame! You will be led up Glory Road to the NASCAR exhibits. After the tour, take a closer look at the four-floor museum and enjoy more than 50 interactive experiences, including the Pit Crew Challenge. For an additional small cost, don't miss getting behind the wheel of an iRacing simulator—bring your fellow Wahoos and may the best driver win!
This tour is underwritten by UVA Lifetime Learning and available to you at the discounted price of $15. (Standard Price: $26)
For more information, please contact Lifetime Learning at lifetimelearning@virginia.edu.
---
Post-Game Meet-Up:
Saturday, December 7th
10:30 p.m.
Town Brewing Co
800 Grandin Road
Charlotte, NC 28202

Gather at Town Brewing Co, a local favorite, to re-live the big moments from the game and spend time with fellow Hoos!
Fan events and activities sponsored by Advancement's Office of Engagement in partnership with the Virginia Athletics Foundation and University of Virginia Athletics.
Not traveling to Charlotte? Find a game watch in your local area to cheer on our Hoos!
This event is #open to all alumni, parents, and friends. #GameWatch #Football
Date and Time
Location
See Description
Charlotte, NC 28202
United States