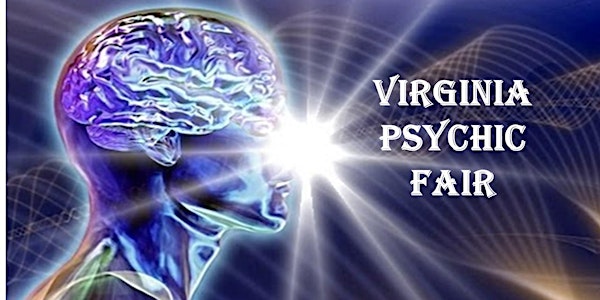 VIRGINIA PSYCHIC FAIR 2021
Psychic Fair for both those who are serious and for those who are just curious. Event can be a life changing experience or just a fun time
When and where
Location
Arlington-Fairfax Elks Lodge, 8421 Arlington Boulevard, Fairfax, VA 22031 8421 Arlington Boulevard Fairfax,, VA 22031
Refund Policy
Refunds up to 7 days before event
Eventbrite's fee is nonrefundable.
About this event
Many of the best psychics, mediums, healers, and readers of all types, along with related arts and crafts vendors from Virginia and the surrounding areas. Besides all type of readings done at tables their will also be related arts, crafts, books, oils, crystals, sage, herbs, jewelry, gemstones, candles, soaps, smudge items, etc.
43 vendors at 41 tables , Indoor event in a large ballroom , free parking.
All tables accept cash, some of the tables will accept credit cards, pay pal, Venmo, etc .
Many of the vendors will be giving Fair Specials and Discounts.
Pre-pay via Eventbrite -Ticket Cost = $5.00 + service charge = $6.04
Pay day of the event, at the door- Ticket = $10.00 (CASH ONLY)
Mask required for entrance and temperature checks will be done.
Info on all those participating in this event is listed below.
AMY GILLESPIE of Irigenics: Discover the treasure map your ancestors left you with an Irigenics ancestral eye reading, revealing your gifts and talents; as well as your ancestors unresolved traumas that can create some drama in your life (especially during COVid). Get your macro eye photos and order your Mini-me dedicated ancestral eye reading video of what you were born to become. You can also order your My-Eye-Mag 36-page, digital, custom print-ready PDF report of all the amazing ancestral nuances you bring to our world, or the All-Ancestral package, which includes the Mini-me dedicated video & My Eye Mag. Daily early bird specials until noon. Learn how to get certified as an Irigenics ancestral eye reader.
CHERYL GANZER of Angelicwisdom 111.com Cheryl is an Angelic Intuitive / Psychic messenger & U.S.U.I. Reiki Master. Cheryl walks in divine light & love with the angelic realm & ascended masters. During a half hour guidance session, Cheryl will give you an accurate intuitive psychic oracle card reading with guidance & issues such as: Health, Family, Career, Finance, Love, Romance & Life path. Also…. You will strengthen your communication and connection to the Angels & Archangels of divine light and love for protection, releasing what no longer serves you & receive divine guidance daily enabling you to live wishes fulfilled. You will learn how to lift your vibes, cut cords & get signs of communication from the angels.
CHERYL GIANNELLI of Peace & Laughter: Cheryl is a Crystal Intuitive, Spirit Messenger & Energy Healer. She uses her connection with Spirit and knowledge to craft intention-based Crystal Energy Wands. The wands are sealed in glass vials and designed to insert into your drinking vessel, held for insight, gazed upon for visual therapy, placed in your surroundings, or laid on the body to infuse and aspire with the energy and vibration of the crystals. Cheryl has been making the Crystal Energy Wands since 2016. She will also have with her other crystal specialty items, gemstone bracelets & more. Cheryl's services include: Spirit Messaging - Crystal Readings, Mediumship, or Angelic Guidance. Energy Healing - Reiki, home blessings or clearings www.peaceandlaughter.com
COURTNEY WALTON: Crystal Balls Handmade with Love. Courtney Machen Walton "Second Generation Gem Crystal Snowglobe Maker". I have made over 50,000 Crystal Balls since 1989. I do custom designs, making personal Crystal Globes with positive intuitive healing energy. These Genuine Crystal Balls are filled with Natural clear water & Gold Stardust glitter which can clear & calm the mind, as it cascades around the pure Natural Quartz Crystals and many varieties of Gems. Meditate & Relax. Clear your mind. These stones will Protect you with their Shining bright energy while gazing onto them. The magical globes go through a 35-step process and takes five days to finish. Courtzcrystals.com Instagram: crystalsnowglobesbycourtney
DANYELLE the Divine Soul Empress: As the understanding of self grows within the human population, there will be many readers, healers & spiritual workers that will be able to offer you guidance along the way. Not everyone is able to take you beyond the veil to help you find your soul. The founder of analytical psychology, C.G. Jung stated "Until you make the unconscious conscious, it will direct your life and you will call it fate". I help you bring the subconscious truth to the conscious mind for better awareness & understanding of self, by opening yourself to your unconscious truth, you're able to take control of your life, thus allowing you to have a life you truly love. www.DivineSoulEmpress.com
DEB CARTER: Co-owner of Elevated Wisdom is an Akashic Records Practitioner & Teacher who is also a Reiki Master Teacher, Oracle Card Reader & multi-frequency Energy Worker. She works with clients all around the world after appearing on several telesummits in 2019 & 2020. Deb & her daughter Kerrie, also have a full service online Metaphysical store featuring crystals, crystal carvings, grids, jewelry, pendulums, smudge supplies, beauty products and much more. See their unique items, including many that are only offered at this Virginia Psychic Fair, and learn about the many classes, courses, retreats & travel packages to sacred sites that are available. www.ElevatedWisdom.com for detailed information and follow them on Instagram @ElevatedWisdom to catch their next Crystal Live Sale.
DEB MUELLER of Trinity Gifts: Butterflies and Moonbeams: Deb is a Reiki Master Teacher, an IET Master Instructor, a Certified Intuitive Artist & Certified Oracle Card Reader. Deb is currently studying for Certification in Psychic Mediumship & Spiritual Counseling. At the fair she will offer sessions for Intuitive Soul Portraits. Deb is an independent consultant with Magnetude Jewelry which will be available to purchase or order. She will also be displaying her handcrafted jewelry, oil blends, suncatchers, Oracle/Tarot Card Boxes, Altar Cloths & many more handcrafted gifts from spirit for purchase. You are sure to find something to delight, inspire, and fill your soul. Find Deb at her new website: www.trinitygiftsbutterfliesandmoonbeams.com
DEB SCHAFFER of Enchanted Botanicals: Deb Schaffer is a spiritual herbalist & author, and the owner and creative heart behind Enchanted Botanicals. Every product she creates blends the beauty of organic herbs & flowers with their spiritual purpose. Her offerings include meditation & ritual candles, hand-blended loose botanical and resin incense, and a NEW Home Collection of scented candles & reed diffusers. Each product is carefully formulated to be true to its intention. They are spiritual tools that help you do your "work." Because sometimes magic needs a place to start. www.DebraSchaffer.com www.Enchanted-Botanicals.com
DINO CALABRESE: Psychic / Medium / Intuitive Life Counselor With his ability to interpret vibrations, Dino will help guide you through your path with Clarity and Joy. Channeling for over 30 years, Dino now travels all over the country helping people move forward in their adventures of life. Internationally known, Dino has clients in England, Germany, India and Italy. Author of two books, "Within Each of Us" A journey of awakening to Inner Guidance, and his latest book for children "Plato and Me". Connect with your guides and have questions answered. You will understand how simple and beautiful life is when you receive a different perspective from the energies around you. www.dinocalabrese.com / www.joyousdino.com
DONNA JOY: Donna's unique gifts may be attributed to her Celtic and Amish lineages. She is a gifted psychic/medium, psychic detective and medical intuitive who has successfully worked with police to solve crimes. She is a minister of spiritual science and author. She has been reading tarot cards for over 30 years and her specialties are soul and past-life readings.
EILEEN STRANGE: She has a lifetime of experience in holistic wellness. She is founder of The Soul Shepherd, LLC providing international spiritual & holistic wellness. She is an Intuitive Empath "feeling " her world and is able to do Psychic, Mediumship & Medical Intuitive work through clients' eyes in person or remotely - alive or passed including group readings. She offers Crystal Bed sessions helping clients align, balance and open Chakras for holistic healing. Opening shadowed areas within clients, Eileen is able to facilitate illuminating areas that have restricted clients for years. She offers 15 & 30 minute psychic readings & 30 minute mediumship readings. Mediumship readings - must provide a photo or cellphone picture where eyes are visible. www.thesoulshepherd.com
FAITH CABICO is a Certified Reiki Master and Intuitive Medium, she uses crystals to amplify her healing gifts enabling clients to solve many of life's most challenging problems. Faith has a passion for helping people discover their soul purpose in life, relieve anxieties, control stress, heal emotional and physical pain, make better decisions and live a happier, more fulfilling life. She also teaches various alternative therapy workshops and sells her own line of Reiki energy-charged products. She offers 20-minute spiritual guidance readings, reiki energy charged bath bombs and bath salts. https://faith-hope-enlight.jimdofree.com
HOLLY HIGGINS of Chakra Charms: For centuries, spiritual leaders have taught us that life-force energy flows through our bodies. Along its path, this energy passes through 7 chakras. Unimpeded this energy brings us physical, mental, emotional & spiritual well-being. If the chakras are open and spinning freely, we enjoy a healthy existence. If, however, a chakra is blocked, dis-ease is experienced in the areas associated with that chakra. Spiritual leaders have also taught us that gemstones can be used to clear, revitalize & heal the chakras, returning us to optimum health. Using this knowledge, Holly designed Chakra Charms -- Handcrafted jewelry featuring genuine chakra healing gemstones, allowing us a beautiful way to keep our chakra healing gemstones close at hand.
JAMES MASTBROOK: My clients call me for their Psychic Reading to talk with their Guardian Angels & loved ones passed, Career Building, Relationship & Purposes of life. I receive calls from the Island of Bali, Ireland, Kenya Africa, Hawaii and all over to help my clients move on in life away from being stuck. At 4000 readings and many repeats, my clients keep referring me to their friends and family. I am a Certified Master Practitioner of NLP and Hypnotherapy as well as an ordained Minister of the TLLC church out Seneca Rock West Virginia under Rev. Jim and Sandy Young Angel Talk Radio and TV. Https://www.JamesMastbrook.com
JASON KNEPPER : Jason has been walking on the metaphysical path for almost 25 years, and among his strengths are astrology, divination, personal symbol creation & use, energywork, healing, creating artwork & helping others to cultivate their own abilities and gifts. Look for the bald guy with a funny hat and be entertained and perchance enlightened! http://www.greenstarprod.com
JIM & SANDY YOUNG of "Angel Talk" They are the D.C. Metro Area's Premier Radio & TV Psychics with over 10,000 professional readings. Together they have predicted in copyright many local, national & international events some to within one month of their occurrence. Sandy is an internationally acclaimed Angelic Channel & Communicator, a Spiritual Teacher, Medium, Remote Viewer, Clairaudient & Clairvoyant. She before the age of 5 communicated with family members who lived hours away. Jim is an Ordained Minister, Psychic Intuitive, Archeo-Mythologist, Reiki, Karuna Reiki & Seichim Master. He was a child evangelist & over the years he has added metaphysical teachings & truths from many of the world religions, ancient texts, and symbols to his ministry. www.angeltalkinfo.com
Rev. JOHN MARANI : John is a certified tarot reader and astrologer who has been practicing both arts for 32 years, beginning his professional practice in 2005. He specializes in direct, compassionate guidance and does tarot and astrology readings at Sticks & Stones in Fairfax, VA. He is the former Head High Priest of the Tradition of the Witches Circle in Occoquan, VA, and regularly does spiritual counseling. The author of In Their Own Words: The Major Arcana of the Tarot, John's blog may be found at johnmarani.blogspot.com. Jennifer Wells-Marani is the owner and designer behind Dragonfly Design and produces hand-made metaphysical jewelry.
KEITH MILLER of Turtles and Crows: Keith is a psychic and traditionally trained Tibetan astrologer. From a young age he has been called to help others to develop their own intuitive and psychic abilities. He treats psychic development as a skill that anyone can learn, using a mindset based approach emphasizing practical exercises. In addition to teaching intuition, psychic ability, and energy work, Keith has studied a number of divination systems from around the world and offers divinatory services to resolve your questions. In particular he specializes in using Tibetan elemental astrology to calculate the obstacles individuals may face each year. He offers obstacle consultations, brief lessons, and short divinations. www.turtlesandcrows.com
KEVIN PAUL: He is an international psychic & medium, educator, writer, speaker, online show host & trusted source for private readings in person or remotely. As a paranormal investigator, he creates house cleansings, rituals and advice. Kevin Paul is the creator of the Academy of Real Majick remote training program to identify and develop one's abilities. He hosts his own online show called Psychic Mediums Live! and is found on many social media platforms including Facebook https://linktr.ee/kevinpaulpsychicmedium and his website kevinpaulpsychicmedium.com. At the psychic fair, Kevin Paul will offer psychic or mediumship readings, unique, handmade gift items like his Magickal Manifestation bottle with natural earth elements including crystals, Abundance Wands, Altar Cloths, Seasonal Flags and more.
KIM GORDON of Sweet Mama's Enchanted Kitchen LLC owned & operated by Kim. Natural Holistic Remedies Certification, Reiki Master. She started custom blending perfumes from flowers as a child. Kim now offers custom blended herbs for meditation, psychic, intuitive enhancement & setting of intentions, New Moon ritual kits, reiki charged soaps, all-natural body ointments, butters & jewelry. Sweet Mama's Enchanted Kitchen intuitively custom blends all her herbal blends by hand. Herbs have properties related to healing, empowerment, love to name a few. Using herbs to set your intentions, adds that extra power of the earth to your manifesting the life you want. All skin products are non-toxic, all natural & infused with essential oils for intentions of healing & self-care.
LAUREN of GanglionQ Jewelry: She offers handmade whimsical-styled jewelry, designed to invoke crystal healing and strengthen spiritual connection to Mother Earth. I design genuine stone bespoke malas to enhance meditation, as well as copper electroformed raw gemstone pieces for fashion forward crystal lovers. Gemstones include bright and colorful raw aquamarine, ruby, tanzanite, amethyst, tourmaline, peridot, quartz, agate among others. The scientific process of electroforming can take anywhere from 1-2 weeks to grow the copper onto each crystal artwork. Additional offerings include recyclable art, crystal-laden dreamcatchers, ornamental wall art, wire wrapping and macrame jewelry. We're excited to help you pick a crystal based on their intentions, hopes and future goals!
LARRY LAMBERT, SONDRA LAMBERT, & TAMMY STEPHENS : of Aura Photography & Sacred Journeys Center :We are energetically charged individuals who offer different healing modalities along with services. We offer Aura Photography, Hypnosis, Meditation, Past Life Regressions, Chakra Balancing & Aura Cleansing, Reiki, Shamantic Journeys, Energy Healing, Lunar Enchantments along with many other classes and workshops to assist you in your day to day life. https://www.galaxyhypnosis.com/aura-photography
LILLIE CONARD: Trance Medium, Empath & Spiritual Healer. I read energy and give messages from passed loved ones and the Divine. I am experienced in energy removal on individuals & dwellings. I have worked with several paranormal teams in Arizona, also as DC Hauntings paranormal team who conducted an investigation on a home I lived in where they uncovered a very dark secret. I've had paranormal experiences since childhood. Over the years, I have attended psychic & mediumship development classes to advance my abilities and attended a spiritual retreat in Costa Rica that changed my life. Clients say that my readings leave them feeling a deep inner peace & joy that at times have brought them to tears."
LINDA HORN of Pawsitive Angels : I have been studying and working with healing energy for many years. Raising our vibration and protecting our personal energy field helps to keep us healthy; energetically, physically and emotionally. I use my connection with the animal kingdom, intuition, and knowledge to assist others in choosing the best 'tools' to help them on their life journey by offering education, services, and products. At Linda's booth you will find reiki infused handmade crystal jewelry and bio-magnetic EMF shielding jewelry for both people and pets. Linda is a certified Holistic Life/Pet Coach, Reiki Master Teacher, Animal Reiki teacher, Animal Communicator, certified canine obedience instructor, angel messenger, crystal and essential oil practitioner. www.PawsitiveAngels.com
LOU FOSTER of Herb Fancy: Lou is an Artist, Master of Crystology, Reiki Master, Animal Totem Seer, Dream Walker, learned in the healing arts of herbs, crystals, and shamanism. In her Energy-working practice she incorporates 41+ years of working with herbs & hands-on healing. Lou put her talents to work creating teas, salves & soaps, maintaining high standards using only organic or wildcrafted herbs & essential oils in her herbal creations. Lou is particularly sensitive to and familiar with the beneficial energetic vibrations given off by crystals. Crystal jewelry is offered in her line of products. Lou weaves the energy of herbs and/or crystals into all her artwork - from soaps to jewelry creating a healing vibration to each piece.
MARA BERMAN: Looking for answers to your inner questions or confirmation of your life's path? I welcome the opportunity to guide you. My insight comes from finding energy vortexes and through meditation using light involving twelve dimensional rings. This meditation brings connections to the Inner chamber of the pyramid at Giza. I also connect with angels. Through this meditation process I have met my own guides, via star seed energy & worked through dysfunctional family systems, life lessons & karmic ties in this lifetime. During readings I connect using light-based guides and read your aura colors, with tarot cards and palmistry, I put together the timing of events, answers to questions in your life. Looking forward to our time together.
MARNIE DOLLINGER of Stone Heart Forge which is a woman owned blacksmith, silversmith and broom making shop in the Northern Virginia Area. Stone Heart Forge creates steel, copper, bronze and silver tools and décor for your home and your practice. Historical techniques and ritual intention forge ancient materials into tools for modern use. Items include besom brooms, altar whisks, candle holders, wands, sigils, sculptural items and ritual implements. The elements of stone, steel and bone introduce natural materials into everyday objects to ground and connect these energies for balancing the physical and the spiritual. Check out @stoneheartforge on social media or go to www.stoneheartforge.com.
MELISSA HARVEY: The founder of Whispering Willow Wellness LLC, located in Old Town Manassas, is an intuitive healer who has a passion for helping people & pets. She strongly believes that healing comes in many forms and customizes her services to meet the specific needs of the client to promote optimal healing benefits. Melissa holds a B. A. in Psychology & certifications as a Reiki Master, Tuning Fork Therapy® Practitioner, Integrated Energy Therapy (IET) Practitioner, Archangelic Light Master,, Reiki for pets, Crystal Healing, and is a psychic medium & oracle card reader. Visit her table to experience a Tuning Fork session, Reiki, an Oracle Card reading, or an IET empowerment session. whispering_willow_wellness@aol.com
MICHELE BUCKLEY - Alpha Trinity Health Ministry: Michele has offered her services for the past 18 years in the Mid-Atlantic region. She's a holistic practitioner, energy healer, gifted intuitive reader, spiritual counselor& spiritual teacher who offers a variety of holistic heart-centered healing & intuitive services. She is also known as the Crystal Whisperer for her ability to hear messages & interpret glyphs on crystals. Michele is also the founder of a new energy healing modality called Infinite Divine Illumination Healing. At her table she will be offering all the types of readings and energy healing. Please see her website for the types of readings she offers and testimonials: www.alphatrinity.com
NEVILLE JOHNSTON & MARY PHELAN: Host of Telepathic TV Airing over 1200 episodes. Neville - After being shot to death, Neville returned to life with the ability to lead people into Past Lives. He is a Master Palmist w/50 years' experience. His books, The Language Codes & Hidden Language Codes have been embraced worldwide. Other books include 11 Self-Empowerment Protocols, The Dreamist & Metaphysical Short Stories. Designer of various Copper/Crystal Devices. Mary - Intuitive Reader, EFT Practitioner/Trainer, Spiritual Empowerment Coach, Tarot, Seichim Master Teacher, Creator of the Mapping your Dreams Series guide to Dreamwork & her Psychic Development Series. She is author/illustrator of the Inner Wisdom Cards, Spirit Animal Cards, Chakra Affirmation Cards & Mary's Magical Message Cards. www.telepathictv.com
NICOLE of "Be Well with Nikki" is a Certified Functional Medicine Health Coach with a passion for helping clients make themselves and their healing a priority by incorporating it into their daily routine so that it's a lifestyle, not a chore. She uses a holistic approach with NIKKI as a baseline in her programs and workshops. NIKKI stands for Notice, Introspection, Knowledge, Kindness, & Improvement. The natural & organic bath & body products, oils, soaps, herbal teas & handmade custom healing gemstone jewelry she offers compliment and speaks to the foundation of her coaching. Stop by to shop, schedule a risk-free consultation, and/or grab some free resources for yourself or someone you know.
NIKKI TANKS is a Certified Reiki Master Teacher, Spiritual Healer, International Psychic Medium, Angel Messenger and Owner of Life Energy Reiki and Readings as well as a Reiki infused product line called "Healing by Nikki". She provides physical, emotional & spiritual healing through Various energetic modalities as well as connecting with Spirit Guides, Angels and Loved Ones to deliver healing messages of Love, Guidance, Comfort and Joy. www.lifeenergyreikiandreadings.com
PETER COE of "Peter Michael Practical Tarot." I bring many years of concrete and independent study along with experience reading Tarot & Oracle cards. I teach classes & mentor those interested in studying The Tarot. What started off as a hobby turned into something much more meaningful when I began to explore the potential of helping people through readings. I channel my readings using the cards & my intuition along with the client's own energy. My readings are practical in nature, compassionate & proactive. I am also a Certified Reiki Master & Healing Medium
REBECCA THOMPSON of Baubles of Light: "Baubles Of Light. Symbolic & Resonant Jewelry. Created with mantras, blessings, music & healing energy. "Adorn ourselves with the Energy of our desires...What we wear, we ARE. Manifest Healing. Alignment. Peace. Own it...Wear Harmony"
RONIECE VALENTINE of Soul Ascensions: She is a practicing psychic medium owner & operator of Soul Ascensions a one stop shop for all your metaphysical needs. After experiencing a spiritual awakening in 2018 she saw the need to create a place that is easily accessible to those that are in search of things beyond this world. Soul Ascensions understands that the world that we experience on the physical plane is much more than meets the eye. We are focused on assisting those that wish to be more in alignment with themselves and their true purpose to do so through knowledge, divination & holistic practices. We understand that spirituality is a gift, and Soul Ascensions helps you "connect with your spiritual side".
SONI WEISS: The Tarot is like a map. Showing you the roads, the rivers, the freeways & towns you must go through to get from point A to point B. What vehicle you use & what roads you choose is your free will & choice. With 40 yrs experience in tarot reading & spiritual consulting Soni will help you understand the terrain and which route would be the easiest & safest. http://www.soniweiss.com
STEFFANY HUBBELL of Moonbeams and Fairy Dust which is a family owned metaphysical book and gift store where our goal is to raise your vibration, and the vibration of the planet. We focus on providing hand made, fair trade items when possible. Providing items to help you along your spiritual journey, whatever that path looks like for you, we are here to help! Crystals, tarot cards, books, oracle cards, handblown glass, energy clearing items, pendulums, wellness items, and more.
TERRI BOWDEN : Spirit Portrait Artist, Evidential Medium, Tarot Reader, Spiritual Teacher, moved to the East Coast from the Middle East in 2008. Terri's work as a Spirit Portrait Artist, is a unique way to communicate with spirit by using her incredible gift to 'see' spirit. Terri draws a portrait of your Loved One who resides on the other side, without any communication from yourself. The sketch contains a strong resemblance of your loved one and their essence. These portraits are evidential proof of life after death. Alternatively, she will draw your Spirit Guide which enables you to build a stronger link through focusing on the face of your guide. Why not book an appointment with her in-advance. www.spiritguidedportraits.com
VALERIE FRANKENBERRY & WINDY TRAVERS: Valerie is an intuitive Tarot card reader, Reiki practitioner, and Reflexologist. She works with Tarot to give insight, guidance, and Spirit messages, Valerie also works with Tarot as a Divination tool. Windy is a Reiki healer & Angel card reader uses Reiki as a natural and holistic approach to healing the mind, body and spirit. She is spiritually guided by life force energy sending healing to any imbalances or emotional blocks you are facing. Windy Uses Angel cards to deliver healing messages and guidance
WENDY MATA: Wendy is an Initiated Weather Shaman & Curandera by Lineage. Besides her training in Mexican shamanism she is also a Certified Soul Coach®, Past Life Coach®, Medium, Certified Life Coach, Advanced Pranic Healer, Feng Shui Master, Tarot and Moon Oracle reader. Wendy Mata will be sharing her carefully crafted and curated products for healing the soul, such as auric clearing sprays, cord cutting spiritual baths, third eye opening essential oil blends, prepared candles, and abundance rituals. Wendy will offer Ancestral Healing, Mediumship, & Spiritual Coaching Mini Sessions, to help with the identification of spiritual gifts. To learn more about her work please visit www.Bruja.us If an ASL interpreter is required please contact her at sales@bruja.us Se Habla Espanol.