Dieses Event ist beendet.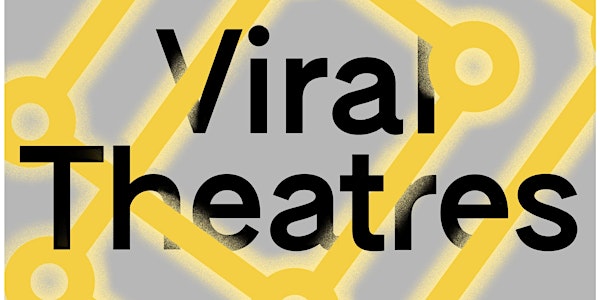 Viral Theatres: Pandemic Past / Hybrid Futures
Join us for a series of events on the various shapes of theatre as it emerges from the pandemic!
Von Viral Theatres Forschungsprojekt (FU, HU, Bard College in Berlin)
Zeit und Ort
Datum und Uhrzeit
Do., 28. Apr. 2022 06:30 - Sa., 30. Apr. 2022 10:00 PDT
Zu diesem Event
How hybrid is the future of theatre? In what ways has the pandemic changed how we work in theatre and gather in it as a public space? In a three-day symposium that opens the exhibition Viral Theatres: Pandemic Past/Hybrid Futures our artistic research project Viral Theatres will explore these questions of the new forms and themes of post/pandemic performance in a series of roundtable discussions and dialogues. Here, we bring together international theatre practitioners and scholars to discuss digital feelings, the pandemic and the Anthropocene, VR as theatre and much more. Please join us digitally or in person by registering here.
This event will also happen in-person at Tieranatomisches Theater in Berlin. For in-person registration, please see our separate Eventbrite site under the same title. Thank you!
Über dieses Event:
Wie hybrid ist die Zukunft des Theaters? Und wie hat die Pandemie Theaterarbeit und Theater als öffentlichen Raum nachhaltig verändert? Wir laden ein, an unserem dreitägigen Symposium Viral Theatres: Pandemic Past /Hybrid Futures teilzunehmen, in dem wir uns in einer Reihe von Gesprächsrunden und Dialogen mit internationalen Kulturschaffenden und Wissenschaftlern mit neuen Formen und Themen post/pandemischen Theatermachens auseinandersetzen. Es wird um digitale Gefühle, Pandemie & Anthropozän, VR als Theater und vieles mehr gehen. Wir laden herzlich zur Teilnahme ein: entweder digital oder vor Ort mit dieser Registrierung.
Dieses Event find auch vor Ort im Tieranatomischen Theater in Berlin statt. Für eine vor-Ort Registrierung benutzen Sie bitte unsere extra Eventbrite Seite unter dem gleichen Titel. Vielen Dank!
ZEITPLAN/SCHEDULE
DONNERSTAG/THURSDAY, APRIL 28:
DIGITALE THEATERSPIELRÄUME / DIGITAL PLAYING FIELDS
15:30 - 16:30 CET
Panel: Hybride Spiele - Turbo Pascal Trifft Interrobang (in German)
Eva Plischke & Angela Löer (Turbo Pascal)
Nina Tecklenburg & Lajos Talamonti (Interrobang)
30 min Kaffeepause / coffee break
17:00 - 18:00 CET
Dialogue: Convening Post/Pandemic Audiences (in English)
Doris Kolesch (FU Berlin)
Ben Walmsley (Leeds University)
30min Kaffeepause/ coffee break
18:30 - 20:00 CET
Panel: Was kann digitale Liveness? (in German)
Lasse Scheiba (Schauspiel Düsseldorf)
Tillmann Drews (Junges DT)
Cosmea Spelleken (punktlive)
Jonny Hoff (punktlive)
FREITAG/FRIDAY, APRIL 29:
THE PANDEMIC & SOCIETY / PANDEMIE & GESELLSCHAFT
14:45 - 15:45 CET
Dialogue: Pandemic Grief and Other Digital Feelings (in English)
David Harradine (Fevered Sleep/Royal Central School of Speech and Drama)
Fintan Walsh (Birkbeck, London University)
15 min Kaffeepause/ coffee break
16:00 - 17:30 CET
Panel: Expanded Theatre: Building New Infrastructures (Helmholtzsaal, in English)
Thomas Fabian Eder (Ludwig Maximilian University Munich)
Rainer Simon (Komische Oper)
Anna Krauß (HAU Hebbel am Ufer Theater)
1h 30min Pause/Break
19:00 - 20:00 CET
Dialogue/Dialog: The Pandemic and the Anthropocene (Helmholtzsaal, in English)
Vicky Angelaki (Mid-Sweden University)
Christiane Kühl (doublelucky productions)
SAMSTAG/SATURDAY, APRIL 30:
POST/PANDEMIC FUTURES
14:15 - 15:15 CET
Panel: From mediaturgy to virality - what concepts do we need to understand post/pandemic performance? (in English)
Miriam Felton-Dansky (Bard College Annandale)
Seda Ilter (Birkbeck, University of London)
15 min Kaffeepause / coffee break
15:30 - 17:00 CET
Panel: Building Virtual Stages - XR in performance (in English)
Sarah Ellis (Royal Shakespeare Company)
Tina Lorenz (Staatstheater Augsburg)
Björn Lengers (Cyberräuber)
Chris Ziegler (movingimages.de)
30 min Kaffeepause / coffee break & Optional: VR Performance
17:30pm - 19:00 CET
Panel: Theatre's Hybrid Futures (in English)
Christian Rakow (Nachtkritik)
Magda Romanska (Harvard metalab; theatertimes.com) - via Zoom
Ulf Otto (LMU)
The Viral Theatres-Research Project, a collaboration of the Free University, the Humboldt University and Bard College Berlin, is funded by the VolkswagenFoundation. The Opening Events are co-financed by the research project "Extended Audiences" in the Research Area "Travelling Matters" at the EXC2020 "Temporal Communities" and take place with kind support from the metalab@Harvard, the Harvard University Mahindra Humanities Centers, and the Open Society University Networks
Das Viral Theatres Forschungsprojekt, eine Kollaboration der Freien Universität, der Humboldt Universität und des Bard College Berlin, ist finanziert von der VolkswagenStiftung. Die Eröffnungsveranstaltungen sind co-finanziert vom EXC2020 "Temporal Communities" und finden statt mit freundlicher Unterstützung des metalab@Harvard, des Harvard University Mahindra Humanities Centers, und des Open Society University Networks.